The means by which electric vehicles powertrains and batteries are assembled could lead to significant reductions in factory headcounts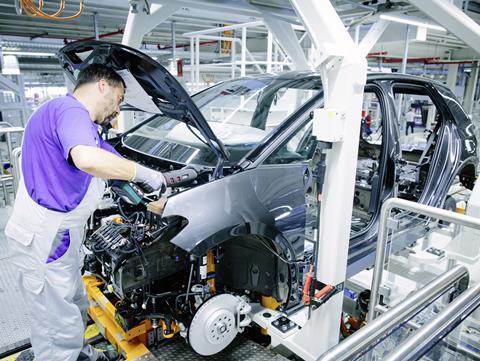 EVs are finally with us; 2020 will see the number of full battery electric vehicles on sale mushroom, with volume brands such as Peugeot with the electric 208, VW with the ID3 and others introducing affordable electric vehicles alongside offerings from the premium brands. Consumer scepticism of EVs remains, especially regarding battery life, achievable driving distance on a full charge, their price compared to ICE-powered vehicles, and the speed of charging.
The robustness of the electricity infrastructure matters greatly – not just whether there are enough charging points but also whether the power distribution network is up to the job of high volume vehicle charging, especially in the early evenings when many EV owners will be looking to charge their cars at the same time.
The initial cost of developing and making EVs has fallen on the vehicle companies. Billions have been poured into this effort by Tesla, numerous new entrants in China and now the established global players, spurred on no doubt by the impact of the diesel scandal. Times have changed and the change is irreversible.
The handling of the dangerous chemicals involved in battery production demands new working practices
But it is not just that these new vehicles are costing billions to develop; in key areas, their production process will be quite different to that involved for petrol or diesel engine powered vehicles. Dedicated engine factories, and transmissions facilities too, will be redundant sooner rather than later as new battery and electric motor facilities take over.
Batteries and motors are generally reconfigured to be far simpler to produce than the conventional powertrains which they replace, largely because they have far fewer moving parts; fewer workers should be required to produce them although for the supply chain at least the basic skills involved in producing stamped, cast or forged parts or plastic injection mouldings will be generically the same. The handling of the dangerous chemicals involved in battery production also demands new working practices.
How EV powertrains and batteries are assembled will also mean that significant numbers of jobs will ultimately be lost inside the car companies; to some extent, this will occur through natural wastage and – even where there are labour agreements to prevent mandatory unemployment – some existing jobs will be replaced by skilled workers in other areas.
News from Daimler especially suggests that this will not necessarily see workers transferring jobs inside the car companies. Administration posts will be slashed in favour of workers skilled in digital technologies especially; this reflects car companies not only moving into EVs but also becoming mobility solution providers.
Mercedes is expecting to cut 10,000 jobs worldwide, including 1 in 10 of all its managers, worldwide. Audi will cut up to 9,500 in its German plants by 2025; sister brand Volkswagen will cut 7,000, saving €5.9bn, and BMW plans to cut 6,000 from its German workforce by 2022. The pace of change is accelerating at the German car companies; others will follow in the same vein in the next few years and across the world the nature of automotive work will change still further.
More Powertrain
To explore the world of automotive powertrains on AMS click here.