With a focus on research, Henkel has joined automakers and battery producers in the pursuit of better EVs through hard-won scientific advances.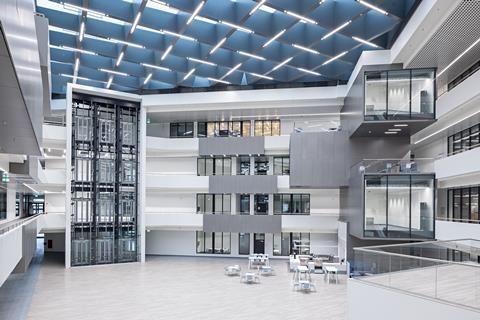 Germany's more than century-old chemical company Henkel is in the midst of a rapid growth spurt as the auto industry seeks specialised materials for the exacting conditions in electric car batteries.
The Adhesive Technologies unit offering these solutions generates roughly half the revenue of the Düsseldorf company known for household names like Persil laundry detergent and Schwarzkopf hair products.
But now that contribution is growing rapidly. Sales of new Henkel products targeting automotive applications have grown about 50% on average over the last five years.
With a focus on research to develop new in-demand products, Henkel has joined automakers and battery producers in the struggle to improve the EV concept through hard-won scientific advances.
The company's contributions include electrode conductive coatings used inside battery cells, adhesives for packing and sealing of batteries, thermal management materials and fire retardants built into these products or applied separately.
The products incrementally improve electric vehicle performance in terms of safety, range, cost and recyclability alongside the developments from other players outside the scope of Henkel's work.
"Our aim is to become a partner with the OEMs and battery manufacturers for the development of the battery system. We are watching current trends and helping our business specialists interpret them in a relevant way," said Dr. Keon Lee, Senior Manager of battery solutions product development.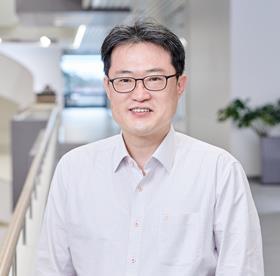 Lee heads the team of in-house battery experts Henkel has recruited to expand its business and has two decades' experience in the electronics and battery fields, including at LG Chem in his native South Korea.
Henkel is now either a contracted supplier for most major global automakers, battery manufacturers and tier suppliers or in negotiations with them to gain such business.
The Adhesive Technologies unit posted 17.6% growth in nominal sales in the first nine months of 2022, to €8.46 billion. In organic growth terms adjusted for acquisitions and foreign exchange effects, the increase was 13.7%.
Emblematic of the resources it is committing to this business area, in September Henkel inaugurated a €130 million research centre on its Düsseldorf factory site, which unites its e-mobility researchers who were previously based at multiple locations.
The 'Inspiration Center' as the name suggests, has a sharp, spartan look free of visual clutter. Only a coffee bar and some sofas take a bite out of the vast space of the triangular atrium in a reminder that the centre's purpose is to foster innovation through collaboration and exchange. Henkel plans to extend the concept by opening another similar centre in Shanghai next year.
MIDDLE OF A CHAIN REACTION
So how did a glue maker get involved with the search for some of the biggest obstacles to making the electric car safer, more economical and practical?
The answer is because many of the problems in terms of energy efficiency and thermal management originate at the molecular level as well as in all of the nooks and crannies in battery packs adjacent to where the company's adhesives and sealants are found.
That creates opportunities for the chemical maker to engineer additional properties into those substances that improve the overall performance of various components.
The technology within an electric car is comparatively simple and pre-dates the internal combustion engine. But today's demands on personal transport in bulky crossover and fat-tyred SUV-style vehicles push energy storage technology and its constituent materials to their limit.
One of the most important areas where Henkel is intervening is in fire safety – both through prevention of so-called battery cell 'thermal runaway' and the mitigation of blazes that take hold.
Henkel solutions include coatings and adhesives for battery cells and housings with insulating properties to prevent one overheated cell from triggering the same reaction in neighbouring ones.
Two paint-like coatings which forestall the melting of a battery pack housing in a fire, Loctite EA 9400 and Loctite FPC 5060, also reached the market this year.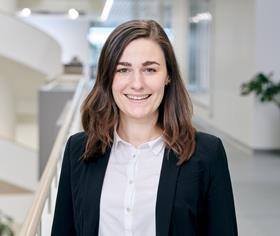 By around 2025, the company expects to launch a thin insulated pad that can be placed between battery cells for this purpose.
The opposite property, thermal conductivity, also has safety-promoting uses, making it possible to produce materials which draw excess heat away from the battery as it accumulates.
"We have a lot of room to improve the technology because we are just starting out with EVs," said Dr. Kim Kreisköther, Battery System & Cell Specialist at Henkel and holder of a PhD in material chemistry.
"Most of the fires start when batteries are charging or after an accident. Ideally, you must keep the fire really small so it has no impact on what surrounds it," Kreisköther said.
"The short-term goal is to increase the escape time. The long-term goal should be that we keep the (fire) event as small as possible."
Kreisköther acknowledged that future solid state-type batteries should deliver safety improvements but noted that they too have a variety of electrolytes with differing degrees of chemical stability.
The chemistry of EV batteries also means that even in an air-tight housing, fires can still burn forcefully with the mix of chemicals and oxygen available inside, Kreisköther explained. That's why materials that delay the damage of battery housings have an important safety contribution to make.
FASTER AND FASTER
Henkel Global Market Strategy Head for e-mobility, Stephan Hoefer, says the speed of the transition to EVs has prompted the company to embrace unfamiliar approaches to innovate more quickly.
"For instance, ten years ago an OEM would approach Henkel and request a new solution based on pre-defined requirements and chemical properties. Henkel would then start to develop the new solution following a planned timeline. However today's e-mobility market dynamics require more agility and speed of innovation because OEMs are not always 100% certain on their requirements and their decision-making cycles are shortened dramatically. Therefore, we strive to build competitive advantage through fast-to-market innovation and we are also open to growing our network of external partners." Hoefer said. Acquisitions and joint ventures could also become a feature of Henkel's growth in e-mobility-related products over time, he said.
"Everything is super dynamic and fast. We are open to understanding the technologies of other companies that can help us be faster."
"Regulations are requiring OEMs to be extremely fast and this is in areas that are not their home turf, like batteries. For the last 70 years, they have been gradually improving internal combustion engines. So now, fixing things at this speed is a bigger challenge for them," Hoefer said.
Partnerships with academia including the University of Aachen and its spin-off company PEM Motion have been another lever to increase the pace of development work in this field where almost every proven advance is likely to be sought for quick industrial application.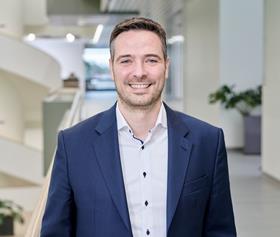 Battery team leader Lee is also chipping away at product development lead times by seeking to anticipate the materials and substances that will be in demand in the near-future to get a head start on these before a customer even approaches Henkel for it.
The process is complex. As well as building in the basic functional properties of the substances, battery and automakers need them to be quick and easy to use.
This could refer for example to optimal viscosity of liquid products to ensure existing machinery can apply it. It could also mean optimising curing or setting time to fit in with assembly line cadence.
Lee summed up the seemingly mind-bending trial and error process of adjusting chemical formulations in the search for all the needed properties. "Innovation isn't about finding a new thing, but rather finding the best formulation. If you change one thing, it can affect everything else. There are more than 5 or 10 ingredients in one formulation, so you tweak and see what combination gives you the best answer," said Lee.
"You have to be creative, because sometimes there are trade-offs. It's all about overcoming them."
For more on Henkel's adhesive applications for the automotive industry, visit here.