Toyota use additive manufacturing services to validate a number of exterior components for design, fit and function
The challenge: Toyota needed to validate the design, fit and function of a range of their exterior components for the Corolla hybrid, touring sport and hatchback models – but the traditional manufacturing process made it an expensive and time-consuming process.
The solution: Using its additive manufacturing printing service, Ricoh was able to produce Toyota's components including the full bumper skirt kit in a fraction of the time using a polypropylene material.
Due to its lightweight and flexible properties, polypropylene is a capable option for exterior car parts that need to flex and offer super lightweight performance.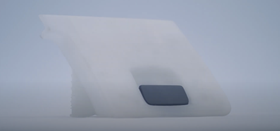 The polypropylene enabled Toyota to print prototypes in the final material of choice. Ricoh's selective laser sintering (SLS) system allowed Toyota to trial the performance of prototype components on their test vehicles, including wind tunnel testing.
The manufacturing of prototypes with AM meant that Toyota were able to understand with greater accuracy how prototypes in end-use material perform under testing, reducing the end-to-end development cycle of their products, delivering cost savings and harnessing the power of AM to introduce new models to market quicker.
As part of this ongoing relationship with Toyota, Ricoh is employing continuous improvement methodology and working to further refine polypropylene joining process for large scale components.