With electric powertrains presenting different performance requirements in terms of NVH, digital tools have become invaluable in product development. Mike Farish reports on how Valeo has made good use of digital design analysis software packages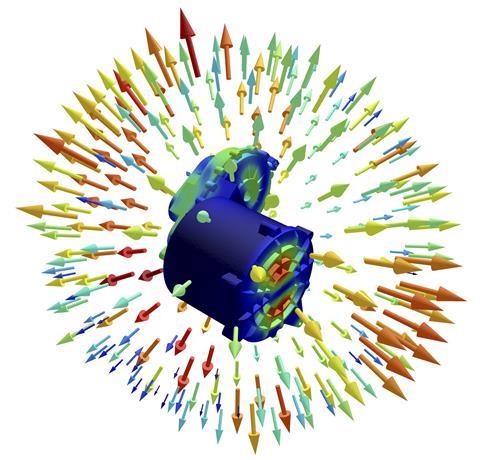 Jerome Mortal is quite specific about the importance to his company of increasing the environmental efficiency of the products it makes. "57% of our turnover is derived from products that make vehicles greener," he states. Mortal is special vehicle application and electrification director for French manufacturer of electric motors, Valeo. A key element underpinning all this work, he confirms, is its use of Romax design analysis software packages from system supplier Hexagon. "We have been using Romax software since 2018," he says. "Initially, we primarily used Concept, a 'simpler' version of Romax Designer used for design space exploration. Then, while switching our models to the cloud-supported Romax Nexus suite of products, we expanded to use the Enduro, Spectrum and Energy modules that focus on efficiency, gear definition, NVH, bearings and durability."
As Mortal explains the increasing take-up of electrification throughout the mobility sector in general and not just specifically in car manufacturing, is bringing lots of new companies to the area. He says he was brought in to Valeo after three decades of experience elsewhere in the automotive industry, very much with a brief "to bring them the reliability and robustness associated with automotive industry." A recent project, for instance, involved the development of "a smart e-drive system for a two-wheel vehicle with an integrated automatic gearbox and a total weight 4kg." This was, Mortal says, a "very complex product involving a motor, inverter and gearbox with a development timescale of less than 24 months, so we had to aim to be right-first-time."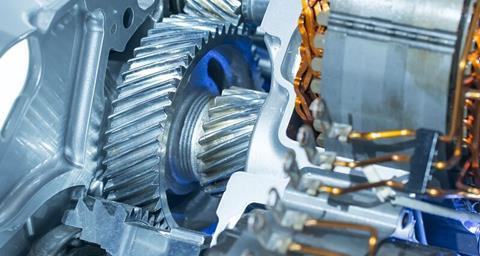 Another was to develop a 25kW power unit for a small vehicle with 'smart cooling' in which cooling is completely integrated with the e-drive. Though he does not provide more details he indicates the project was successful in developing an e-drive "without external cooling and without the impact of internal cooling".
Considering motor and inverter harmonics
One major challenge in EV products, Mortal observes, is to consider the harmonics from the electrical motor and the inverter. "For example, the frequency domain response from the inverter or multilevel highspeed inverter (MLI) can be very close to the frequency response of the housing," he explains. "When comparing ICE and electrical motors, the two propulsion systems are very different, creating a wider range that needs to be validated for NVH."
Mortal makes it plain that the ability to analyse designs as they develop in software is not just vital but also for all practical purposes, unlimited. "In the numerical domain anything is possible," he states. "Romax permits the simulation of a complete system with finite element analysis, bearing life, gear life and NVH analysis." He also says that while other software systems support pre- and post-processing routines with a similar timescale of one or two weeks until the simulation report is finalised, they require almost as much time for each iteration. In contrast "with Romax, the pre-processing period can be a bit longer, but each iteration takes only minutes to perform."
From the supplier perspective the motivation behind Hexagon's software development efforts is pithily expressed by Detlev Runkel, Europe business development manager for the company's Applied Engineering Solutions team which uses Romax software to support customer projects. "We want to make the manufacturing process smarter, slicker and quicker," he states. That involves supplying and supporting the use of a range of software tools that "link the virtual world with that of real engineering." These include, for instance, Romax Concept for initial product layout. But the system is, Runkel stresses, far more than simply a graphical tool. Instead, it actively supports decision-making. "It is a parametric tool that can run a number of different layouts and concepts in parallel to make informed decisions about the final product configuration," he states. "For instance, if the product is a gearbox, you won't know initially the best arrangement for a given power rating which can includes centre distances of the shafts, the power rating or whether it will be a single-stage or two-stage layout."
Supporting the decision-making process
This same principle of not merely recording design information but of supporting the underlying decision-making process also applies to other Romax products. For instance, Runkel states, the Romax Enduro program "is fed with speeds, loads and torques to determine the durability of a system, while Romax Spectrum analyses NVH behaviour. Further tools can optimise efficiency by, for instance, using computational fluid dynamics of oil flow." After that the resulting data may be fed into a third-party 3D modelling CAD system. Runkel confirms that Hexagon software has specific interfaces to the CAD systems most encountered in the automotive industry – Valeo, for example, uses the Catia system from Dassault Systemes for detail design work and drawing generation. But he stresses, "the key thing is the ability to run analyses during design process and in parallel with it to increase the speed and accuracy of design and to ensure the final configuration is fit for purpose."
Meanwhile an enhancement to the Romax software is the incorporation of bearing calculations provided by major suppliers such as SKF. As Runkel notes "routine catalogue data usually just comprises basic data such as inner and outer diameters, width and expected general durability. But that doesn't tell you such things as the number of rolling elements or the surface finish of roller track. But get that data and you can accurately predict bearing life and load bearing capability for your specific application."
Interestingly Hexagon has also just extended its relevant product portfolio into the world of artificial intelligence (AI). Its new ODYSSEE A-Eye package released onto the market just last month is described as harnessing the power of AI to support computer aided engineering (CAE) without the need for complex preparation and simulation expertise on the part of the personnel involved. A theoretical automotive example might be how car wheel designs behave when impacting obstacles such as a kerb or debris. The software could enable the construction of a database of different configurations using non-linear finite element simulations such as the number of spokes to understand the effect of various designs. Design teams without any engineering or CAE knowledge might then gain an understanding of the behaviour of a wheel based on only a 2D image.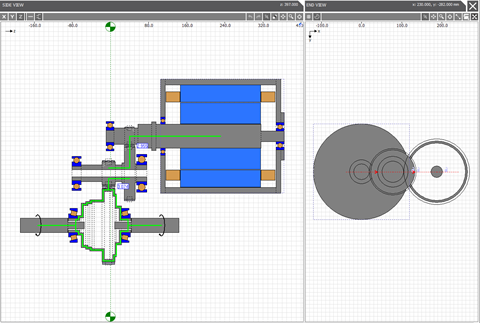 Compressing development times
There is, Runkel states, a particular relevance of this set of capabilities to the automotive manufacturing industry. That is, quite simply, the way they can support "the compression of development times". The development timescale for a new vehicle, he says, "used to be seven years with fleet of 50-60 prototypes. But now in Europe the development cycle is down to three and a half years and number of prototypes to fifteen."

Moreover, this situation is made even more challenging where the development of electric vehicles is involved because of the complexity of some aspects of the basic technology. Runkel pinpoints "electrical excitation from the e-drive" as a key issue. Combustion engine speeds, he says, generally attain "a maximum of 6,000rpm". But in the case of e-Drives the relevant figure is much higher "15,000-20,000 rpm and beyond" and this much higher excitation frequency into the vehicle system can be a source of noise problems.
That example, Runkel argues, underlines how electric vehicle development makes even more acute the need to balance "durability, NVH and efficiency" - a trio of issues that together make what development engineers sometimes refer to as the 'Bermuda Triangle' they confront each day. "You have got to be aware of the danger that enhancing the performance of one of them will degrade that of another. This is the key thing about approaching the issue with an integrated set of software tools because it enables everything to be evaluated at system level."