Pickup trucks and SUVs drive profits and investment in US automotive production as cars are cut from model line-ups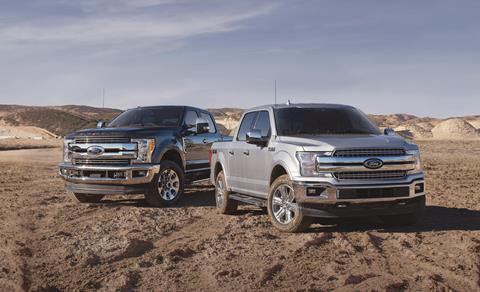 For all the uncertainty globally, North America remains a profitable place for the big three US manufacturers. Earnings in the quarter to the end of June 2019 once again measured in the billions, with General Motors topping the list at $3 billion profits, before tax, earned in North America, followed by Ford at $1.7 billion and FCA at $1.4 billion. Throw the rest of the world in there and the fat profits slim down – losses for Ford elsewhere, for example, shaving its profits to $1.4 billion.
And what's driving this profitability? Pickups and SUVs of course, which are thriving in the US as sales of regular cars continue to shrink. In the six months to the end of June, car sales fell to 2.5m, down from 2.8m the year before, while light trucks including pickups and SUVs rose to 5.9m. And of those, 4.6m were made in North America, according to data from Automotive News. Ford says sales of its F-150 pickup, the country's best-seller, were the highest in the second quarter since 2004.
The Big Three are abandoning regular cars at a terrific rate. Last year, Ford announced it was killing almost all of its car range, dumping, in order of size, the Fiesta, Focus, Fusion and Taurus. The Flex crossover is also going, leaving the Mustang sports car, made in its Flat Rock Michigan plant. Just 20% of its half-year sales were cars. "In hindsight it was absolutely the right call. We want customers to understand the silhouettes that they prefer are the ones we're going to bring them," Ford CEO Jim Hackett told analysts on the firm's Q1 results call earlier this year.
"In hindsight [the decision to cut so many car models] was absolutely the right call. We want customers to understand the silhouettes that they prefer are the ones we're going to bring them." – Jim Hackett, Ford
FCA has already killed the compact Dodge Dart and is tipped to axe the full-size Dodge Charger, Dodge Challenger and Chrysler 300C, all made at its Brampton, Ontario plant, by the end of 2021. FCA has abandoned cars so completely that they accounted for less than 10% of its 1.1m sales in the first half of the year. Just 16% of GM's 1.4m sales were cars over the same period, and it, too, is slashing models. The compact Chevrolet Cruze was a big loss, the main car built by the Lordstown, Ohio, plant that GM closed in March as part of a cost-cutting drive. The Chevrolet Impala large saloon is to go by the end of this year, while the smaller Malibu is expected to continue to fight rivals from the Japanese OEMs, which aren't being quite so quick to dump cars.
Even so, carmakers like Honda are suffering from the switch to SUVs. Its earnings for the second quarter of the year dropped 16%, on lower sales, "mainly due to the decrease of the Accord in the US", the company said. The fall of car sales prompted an announcement from Toyota in July that it was going to switch the vehicle to be made at its forthcoming plant in Huntsville, Alabama, in conjunction with Mazda, from the Corolla compact to an unnamed SUV. "This shift is in response to changing market demands and a growing consumer appetite for light trucks and SUVs, which are achieving record sales," the company said. Corolla sales were down 5.3% in the first half this year, hitting the firm's Blue Springs, Mississippi plant where it is made.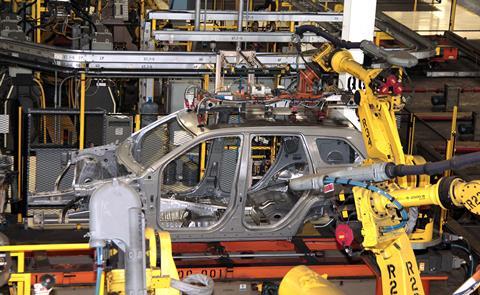 The $1.6 billion Alabama facility, close to where Toyota has an engine plant, will start in 2021 and create up to 4,000 new jobs, the company said. Announced in 2017, the plant will assemble 300,000 vehicles per year, split evenly between the two, and gives Mazda a US production facility to add to its Salamanca, Mexico plant. It becomes the 18th auto assembly plant in the south (depending on how you classify this region) and adds to the area's ascendency against the legacy manufacturing region around Michigan in the north.
Some plants are well established – BMW recently added or replaced a slew of SUVs, including the new large X7, at its Spartanburg, South Carolina plant, which made a whopping 206,166 cars in the first six months of 2019. BMW's rival, Mercedes, is meanwhile gearing up to add the electric EQ series to its Vance, Alabama, plant and apparently mulling whether to move out production of its C-class sedan from next year, making the car another casualty of US customers' preference for SUVs. The plant is running at 93% capacity, making 130,144 vehicles in the first six months of the year, including the new large GLS SUV as well as the GLE and GLE coupe, all of which are exported globally.
OEMs' southern units continue to grow
Along with cheaper wages and state incentives, the appeal of the south for automakers is the fact it's largely union-free, unlikely the north of the country. In June this year, workers at Volkswagen's plant in Chattanooga, Tennessee, voted not to unionise with the Michigan-based UAW (United Automobile Workers union) the second time they'd done so. An angry UAW accused VW of running a "brutal campaign of fear and misinformation" after 52% voted not to join. UAW membership has reportedly fallen to less than a third of the 1.5m it stood at 1979, partly due to the contraction of factories in the north and growth of the assembly network in the south. The UAW also lost votes at VW in 2014 and Nissan's Smyrna, Tennessee, plant in 2017, the south's biggest plant by production numbers (276,555 cars in the first six months of the year).
"Demand has come from some of our customers who locate in the south of the US, where capacity was not installed. The growth has been in the southern part of the US. Our strategy has been to build plants there and in Mexico." – Francisco Riberas, Gestamp
The shift in gravity to the south has benefited suppliers as manufacturers outsource more jobs they used to do themselves. For example, revenue in North America for Spanish metal parts supplier Gestamp jumped 30% in the first quarter of this year after winning business from BMW in Spartanburg, Mercedes in Vance, and VW in Chattanooga (all supporting SUVs).
"We had been investing quite heavily in the last three years for new projects and also for the replacement of existing business," Francisco Riberas, chairman of Gestamp, told AMS in a recent interview. He said the growth for the company was away from 'legacy' regions such as Michigan and Ontario in Canada, where in-house stamping still exists. "Demand has come from some of our customers who locate in the south of the US, where capacity was not installed," Riberas said. "The growth has been in the southern part of the US. Our strategy has been to build plants there and in Mexico."
The shift to electrification in the US is attracting Korean battery-maker LG Chem, which is planning to open a second plant in the country and is looking at southern states, including Kentucky and Tennessee, Reuters reported in July. It opened its first plant in 2010 in Michigan to supply the Chevrolet Bolt.
Cross-border challenges
The protectionist rhetoric of President Donald Trump has moved attention away from Mexico, which thanks to the North American Free Trade agreement has become the US's production hub of choice for mainly lower-margin small cars or lower-tech models, such as pickups. In 2015, 2.66m vehicles were exported from Mexico to the US, up from 1.89m in 2014. Trump's anger at the shift in investment south of the border was one reason Ford, in 2017, decided to cancel its $1.6 billion planned plant in San Luis Potosi, central Mexico, and refocus investment in Flat Rock, Michigan, where it builds the Mustang and Lincoln Continental.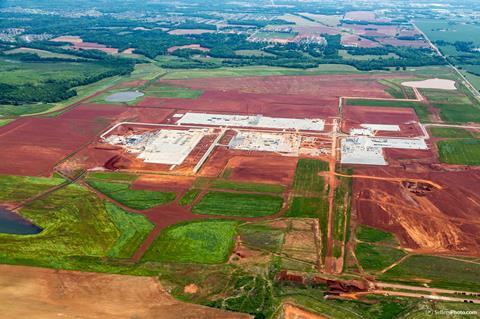 Toyota's plant in Alabama was also announced following a furious tweet from Trump complaining about its expansion in Mexico. A planned $1 billion investment in a plant in Guanajuato, central Mexico, was cut to $700m and it was switched to making trucks rather than the planned Corolla. Also pausing the pipeline of investment south was Trump's insistence that Nafta should be rewritten to persuade automakers to develop plants in the US rather than Mexico and. He saw it as a key reason the US lost around 350,000 jobs since Nafta was agreed in 1994, although many argue that the agreement lowered costs for US automakers and improved productivity.
The resulting United States-Mexico-Canada Agreement (USMCA) was signed in November 2018 and included a provision that to qualify for zero tariffs, 40-45% of auto content should be made by workers earning at least $16 per hour, far more than the average wage in Mexico. It also mandates that cars have a 75% parts content sourced from either Mexico, the US or Canada, up from the 62.5%; and that 70% of steel or aluminium should be sourced from inside the free-trade area. Although USMCA has been signed, it hasn't passed by the Democrat-controlled House of Representatives at the time of writing. Democrats are known to have concerns surrounding labour rights, environmental protections and the fine print around pharmaceuticals.
The danger is always that Trump may get frustrated waiting and rip up NAFTA with no alternative in place, slapping tariffs on parts and finished cars from Mexico (something he has threatened in the past).
"Ford, General Motors and FCA might be making big profits in the US but they are also having to make some fundamental changes to their business as they prepare for a future that will involve to some extent autonomous vehicles, electric vehicles…"
Gestamp's Riberas doesn't fear USMCA itself. "The terms don't seem not dramatic for us, but still there are parts of the agreement that need to be further developed; some terms related to cost per hour in Mexico, for example," he said. "It won't be negative in terms of existing capacity in Mexico, but maybe it will prevent new projects."
Not that there's much appetite for expansion at the moment. Ford, General Motors and FCA might be making big profits in the US but they are also having to make some fundamental changes to their businesses as they prepare for a future that will involve, to some extent, autonomous vehicles, electric vehicles and a connectivity revolution that sees rivals from far outside the automotive industry.
GM restructures production
GM announced in November that it would end production at five plants in the US with the loss of around 15,000 jobs. Lordstown in Ohio stopped in March, while GM's transmission plant in Warren, Michigan shut at the beginning of August. Also closing this year is GM's Oshawa, Ontario, plant in Canada, while its Detroit-Hamtramck plant, which builds the Cadillac CT6, ends in January 2020. The savings are coming already, with GM predicting $2-2.5 billion of cost savings in 2019, and similar amounts for 2020. Shutting plants and streamlining the range was worth it, CEO Mary Barra said on an earnings call to analysts in August. "The reward for overcoming these challenges and being very disciplined is that we get the privilege of working on the future of transportation, of being able to lead the industry as we look at electric vehicles and autonomous vehicles," she stated.
FCA doubles down in Detroit
It's not all retrenchment though. FCA is capitalising on the success of its Jeep brand (the US's sixth most popular brand in the first half of this year with a market share of 5.4%) with a plan to open a second Jeep assembly plant in Detroit as part of a $4.5 billion spend on manufacturing in the Michigan area announced in February. The second plant will expand an idled engine factory to make the next Jeep Grand Cherokee as well as a larger seven-seater SUV and plug-in hybrid models. Meanwhile, its Jefferson North Assembly Plant gets a $900m re-tooling investment to build the Dodge Durango and next generation Jeep Grand Cherokee, with 1,100 new jobs expected. FCA also announced that a planned investment in its Warren Truck plant to produce the new Jeep Wagoneer and Grand Wagoneer will rise to $1.5 billion.
The reliance on pickups and SUVs will likely ring alarm bells for those who remember the red ink spilled after a similar reliance by America's home-grown automakers in the previous decade, but at least the profits earned are being ploughed into investment in the technologies that will eventually replace gasoline models, meaning that this time they have a natural hedge.