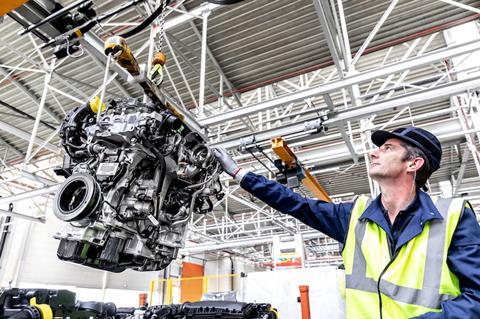 Engine manufacturing facilities around the world are changing. Pressure from governments and changes to legislation are pushing carmakers to develop new internal combustion engines (ICEs), the production of which often requires new assembly lines and equipment.
More of these facilities are also starting to make powertrain components for electrified vehicles, such as electric motors and batteries. One company that is clearly attempting to find the right balance between new ICEs and electric powertrain components is Groupe PSA.
Pushing the PureTech
The OEM has now started making its 3-cylinder 1.2-litre petrol engine at its plant in Tychy, Poland. Launched in 2017 on the Peugeot 308, the engine has been named International Engine of the Year for four consecutive years. It is now used in several different vehicles across the PSA portfolio, and is made at two facilities in France and one in China.
"The factory in Tychy is back in the game as a part of Groupe PSA and all the teams are committed to meeting the new challenges set for us," commented Arkadiusz Suliga, Tychy plant director. "The plant has been thoroughly modernised with the right level of investment to ensure the best level of efficiency, among the most modern engine manufacturing sites in Europe. We are proud to contribute to the shift to low-emission PureTech petrol engines."
A total of €250m (US$284.47m) was spent to 'modernise' the Tychy plant. This included the construction of a new assembly line for the engine as well as the integration of new IT systems.
PSA has also revealed plans to build the engine in Hungary, Morocco and India. It recently inaugurated its plant in Hosur, India, which is reportedly capable of producing 300,000 transmissions and 200,000 engines each year. It has also revealed plans to double the output of its 3-cylinder engines at Trémery and Douvrin plants in France back in March 2018.
The other half
But Trémery is also being readied for electric motor production, which will start at some point during 2019. A ramp-up in volume will then take place in 2021 in order to support the OEM's plan to include an electrified version of all models in its line up by 2025.
This announcement was made shortly after PSA and Japan-based electric motor manufacturer Nidec formed a joint venture company called Nidec-PSA emotors. Forty engineers have been working at the JV headquarters in Carrières sous Poissy, near Paris, designing the new traction electric motors that will be produced in Trémery plant.
The OEM has also been negotiating the terms of a joint venture with Punch Powertrain to produce electrified transmissions in Metz, northeastern France. The supplier is expected to design and build the production line for the transmissions with a significant output of 600,000 units a year.
As well as adapting its manufacturing footprint to prepare for electrified powertrain component production, PSA created its Low Emission Vehicles Business Unit back in April 2018. This is being headed by Alexandre Guignard, with the primary aim of ensuring electrified vehicle production and sales are profitable.
Remaining realistic
Doubling the output of 3-cylinder engines while simultaneously starting production of electric motors at a single plant is a big ask. But Yann Vincent, PSA's executive vice president of manufacturing and supply chain, thinks that PSA has an advantage.
"What will make the difference will be our ability to prepare our manufacturing base to produce components that meet customer needs and respond to the energy shift, creating the conditions for a sustainable future through enhanced performance," he commented. "Groupe PSA's 15 component production plants in Europe, located in France, Germany, Austria, Hungary and Poland, are eager to propose the best quality and performance to our customers."
Although Vincent highlights an "energy shift," the company's push to increase production of 3-cylinder engines is a clear indication that demand for ICEs is likely to remain prominent for the foreseeable future. Ensuring its existing facilities can churn out both seems to be PSA's strategy for keeping in line with consumer trends.