Ford has recently announced it will bring 16 electrified vehicles to market in Europe over the next few years. Michael Nash provides a rundown of the first batch to be introduced
European legislation is having an increasingly significant bearing on new vehicle launches. The worldwide harmonised light vehicle test procedure (WLTP) started to replace the new European driving cycle (NEDC) in September 2018, and has pushed car makers to make improvements to their engines in order to lower emissions levels. Furthermore, portable emissions measurement systems (PEMS) will also be used from 2023.
The European Parliament has also recently approved draft laws that will mean carmakers must ensure that zero- and low-emissions vehicles have a 20% share of new car sales by 2025, rising to 40% by 2030. They will also have to cut fleet-wide emissions by 20% before 2025, rising to 45% in 2030. Those that fail to meet the targets will have to pay fines.
These changes to regulation have forced vehicle manufacturers to up their game in the field of electrification. Ford is among the many that are doing so, and has recently unveiled seven new electrified vehicles that will soon start rolling off production lines.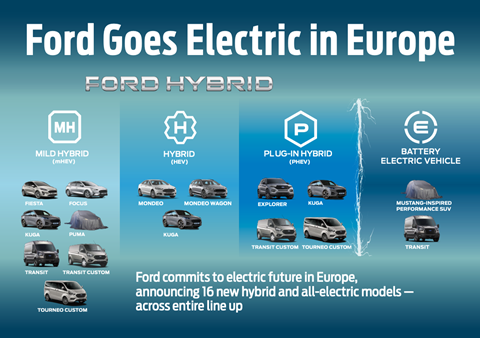 The models were unveiled at Ford's 'Go Further' event in Amsterdam in April 2019. On top of the seven new electrified vehicles it showed at the event, the OEM promised to bring a further nine to market in the next few years. This is part of a US$11bn investment that the company said it would spend back in January 2018 in order to bring 40 electrified vehicles to market by 2022.
The all-new Kuga SUV stole the spotlight at the event, and according to the OEM, it will offer the "widest range of hybrid options the company has ever made available." This includes a plug-in hybrid option that can provide a pure electric driving range of 50km (31 miles), as well as mild- and full-hybrid variants. The model will be made at Ford's Valencia plant, in which the OEM said it would be investing US$870m back in November 2017 to ready the facility for production of the next gen Kuga.
The new Explorer plug-in hybrid also made an appearance, with Ford announcing that the electrified version of America's best-selling SUV would go on sale in Europe later this year. A 13.1kWh lithium-ion battery powers the 100PS electric motor, which sits alongside a 3.0-litre EcoBoost engine. The 2020 Explorer is already being made at the company's Chicago Assembly Plant, though details of potential European production are yet to be revealed.
Like the Kuga, the Mondeo Hybrid is made at Ford's Valencia plant, and was the first hybridised vehicle to be produced by the OEM in Europe. Ford has decided to expand its Mondeo Hybrid offering with a more spacious wagon variant. This will also be made in Valencia, and has been developed exclusively for customers in Europe.
New mild hybrid Fiesta and Focus models will be introduced to the market in 2020. They will feature 48-volt systems and a belt-driven integrated starter/generator in place of the standard alternator. Ford currently makes the Focus at its Saarlouis plant in Germany, where it will soon end production of the C-Max by the end of June 2019.
As well as launching new electrified passenger vehicles, Ford is looking to electrify its commercial vehicle offering. Deliveries of its Tourneo Custom plug-in hybrid will start in late 2019, with production starting at Ford Otosan's Gölcük plant in Turkey. The facility is also home to production of the Transit. This will soon be available in a pure electric option, which is expected to launch in 2021.
The event in Amsterdam came to a close with the all-new Puma driving across a dimly lit stage. The mild hybrid SUV comes with a 48-volt system and is, according to Ford, inspired by the Mustang. It will be produced at the company's Craiova assembly plant in Romania, following a €1.5bn investment in upgrades.