For powertrain component specialists such as BorgWarner, a shift to electrification is bringing challenges and opportunities. Gareth Price reports
Widely recognised for its credentials in powertrain technology, BorgWarner undoubtedly is a key player in the internal combustion engine component market. Yet, as the diversity in drive systems broadens, suppliers such as BorgWarner can only stay relevant if they accompany OEMs on the journey from the ICE-dominated past to the electrified destination.
"We are a propulsion company," says Stefan Demmerle, president and general manager for power systems at BorgWarner, sending the message that the company is keeping track on the market and staying engaged with its customers.
"We see an evolution of the propulsion system around the world. Depending on region, depending on customer and it's not a one-size fits all. Europe, China, North America - all have different regulations - some are further ahead than others. But we are a global company so it's our job to make sure we can cover all systems in all markets."
Demmerle was addressing a discussion forum, staged in Frankfurt by BorgWarner to address such industry trends and to showcase its hybrid propulsion systems solutions and thermal management technologies for electrified vehicles.
The point is echoed by CTO Hakan Yilmaz, who cites the regulation as the key driver for the industry over the next decade, saying: "In Europe, for example, there is a shift in the dynamics – a reduction in diesel powertrain sales, more SUVs, larger vehicles, CO2 targets and emissions restrictions. It's adding a lot of pressure on the CO2 gap that the OEMs need to close."
Yilmaz believes that while the situation is obviously creating challenges, so on the other hand it reveals opportunities, with a strong push toward electrification in Europe and China.
He says, "From 2021, we'll see a stronger shift toward plug-in hybrids and EVs. Beyond 2025, for pretty much all segments, the only compliant propulsion will be plug-in hybrids and EVs. This puts a lot of pressure on the industry, but it also creates a lot of opportunities for companies embracing electrification."
Yilmaz concedes that as recently as a couple of years ago, BorgWarner was mostly a conventional propulson technology company, taking a mechanical focus. However, a series of focused acquisitions has helped to quickly transform the company.
In 2015, BorgWarner acquired electric motor specialists Remy International. Two years later, power electronics supplier Sevcon was brought into the BorgWarner stable. More recently, BorgWarner has agreed to form a joint venture with Romeo Power Technology, a battery module and pack supplier. The JV is split 60/40, BorgWarner holds the larger share.
"Now we have electrical machines and power electronics in the portfolio. And we can cover pretty much the entire hybrid range with electrical machines and integrated products as modules for all hybrid architectures," Yilmaz confirms.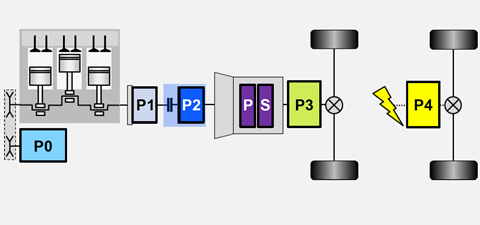 The P architectures
Having broadened its capabilities, BorgWarner now has module level coverage of the entire portfolio, Yilmaz says, making its a pragmatic, objective system development partner for the OEMs.
Describing the P architectures, Yilmaz sees P0 as the simple entry level, with a 48v or high voltage electrical machine attached to the front end of the engine. The other P architectures a characterised by placement of the electrical machine: P1 is behind the engine; P2 is between the engine and the transmission; P3 is behind the transmission and P4 is a separate axle."
As with any range of products, the challenge for suppliers is to know how to prioritise and pre-empt customers demand. Yilmaz believes the clue to that lies in the regulatory climate.
"Because of the aggressive CO2 regulations, the 48v seemed to saturate a bit earlier than we expected. In return, to close that gap, we see a tremendous growth in P2 and P4 solution. They are easy to integrate and it gives you a lot more fuel economy than the entry level P0. This is where we see the customer pull and this is where we are focusing."
P2 advantages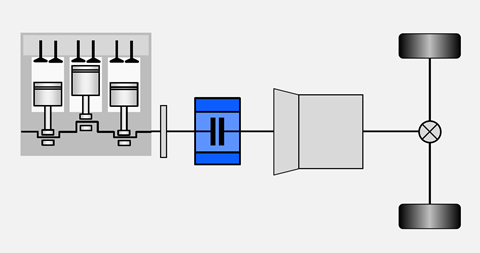 Assessing the likely OEM pull towards a preferred P architecture, Volker Heinz, BorgWarner's director of engineering in Dualtronic and clutch systems, sees integration into an existing placement as key factor: "With regard to the technical solutions, from P0 to P4, we have analysed the best solution in terms of effort and result. Our conclusion is that the P2 configuration has a lot of advantages."
With BorgWarner's P2 on-axis module, the motor is located directly on the main axis. Heinz explains: "We have the opportunity to put the electric drive with the clutch system, in line, or on-axis, between the combustion engine and the transmission. This is the preferred arrangement for rear-wheel drive or standard drive and it uses existing drivetrain space and oil-cooling can be used."
As a so-called "plug-and-play" module, BorgWarner's on-axis module has compact packaging and can be installed without requiring additional space adjacent to the transmission. It has a high power density, increases fuel efficiency and performance, BorgWarner says, and allows several clutch options.
With the off-axis configuration, the electric motor is installed parallel to the main axis and connected to it via a chain as the torque/speed transmitting element. The module addresses the tight package space but is compatible with manual, automatic and dual-clutch transmissions. It has integrated power electronics as well as applicable gear ratio or the potential for further chain-driven assembly integration.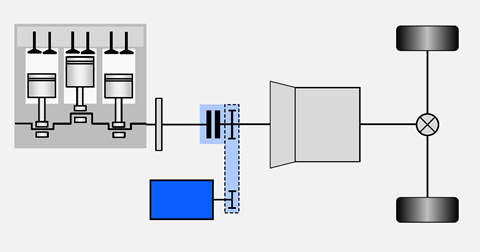 This gives a much more compact axle design and so particularly interesting for front-wheel drive transmission, Heinz says.
Traditionally, coming from an automatic transmission and components background, Heinz is responsible for clutch systems and friction elements and of course has worked a lot with Step ATs, DCTs and CVTs.
"Our clutch concepts fit well into the typical P2 architectures. For instance, a single clutch nested within the e-motor is an option for each clutch arrangement. We are very strong in dual clutch transmissions, and the DCT is a very good solution for hybridisation. As well as producing the clutch module (the disconnect module) we can also add the electric motor to it."
The high runner, Heinz says, is the so-called triple clutch, which is more or less a combination of the dual clutch with the third clutch as a disconnect from the electric motor, integrated with the electric motor in a compact design.
"It's getting a lot of interest right now because it's enabling electrification at a higher power level."
Since the acquisition of Remy, BorgWarner has been able to us inhouse electric motor technology, combining this its existing clutch technology. For example, the S wind motor, which won a PACE award because of its performance criteria, compact design, higher power output and positive on its NVH capabilities.
"Because we can run with a large rotor inner diameter and integrate the clutch system within and create a more compact module in the architecture."