Spain's biggest exporter has turned its finances around and looks to have a bright future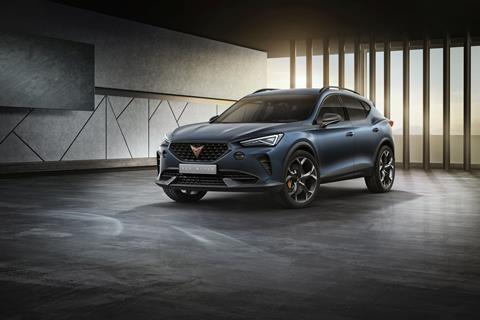 In January 2019, Seat was recognised as Spain's largest exporter of industrial goods; accounting for no less than 3% of the country's total exports, exporting 80% of output from the Martorell factory near Barcelona. Last year, it also achieved a record sales volume, up 10.5% to over 517,000 vehicles, although admittedly some of these were made for it by VW group plants outside Spain. Having turned losses into profits, the brand has been chosen as the VW Group's leader for expansion in North Africa. Four Seat models are assembled in Algeria; and in China it recently joined other group brands there through association with the JAC-Volkswagen joint venture.
In 2018, Seat reported its best ever results, with a 33% increase in operating profit to €254m ($289m); its turnover was up 3.1% at Ä10.2 billion, suggesting a significant increase in margins. This impressive performance is down to a combination of improvements in manufacturing efficiency in Spain, and a significant change in model offerings. Reflecting rising production at Martorell, Seat spent just under Ä7.14 billion on components last year, up 5.6% – 60% of which was spent in Spain.
The positive performance in 2018 has continued in the early months of 2019; global Seat sales were up nearly 9% in Q1, at over 151,000 units; 600,000 vehicles for the year seems likely. The main growth markets during this period were Germany, the UK and Algeria, although Spain (up around 3%) naturally remains the brand's biggest volume market. German sales were up over 16%, while in the struggling UK market they rose by over 12%. Further afield, sales in Mexico rose 6.2% to 6,400 for Q1. In fact, March 2019 was the best ever sales month for Seat, with over 62,000 units sold. Such has been the improvement in the carmaker's performance that it has had to take on 1,300 extra workers on a temporary basis from April to December 2019, and specifically to allow production to continue through the normal summer shutdown in August, allowing the production of an additional 20,000 vehicles this year.
Like many other OEMs, Seat is moving away from a historical reliance on conventional cars, especially small cars in its case, towards SUVs and crossovers (Seat has three SUV models on sale now, with more on the way) and will soon have its first full EVs on the market. The OEM describes four models, Ibiza (small), Leon (compact), Arona (small SUV) and Ateca (compact SUV) as the core of its brand, or its four major pillars. The best seller is the Leon (c.158,000 units in 2018), followed by Ibiza (c.136,000 units), Arona (c.99,000 units) and Ateca (c.78,000 units); these volumes were boosted by around 14,000 Cupras – the high-performance sub-brand that produces enhanced versions of most Seat models. Further growth is expected in 2019 with the Tarraco SUV and the first EVs, which should appear by the end of the year. In addition, the Formentor coupe-SUV will be added to Martorell's production line-up in 2020.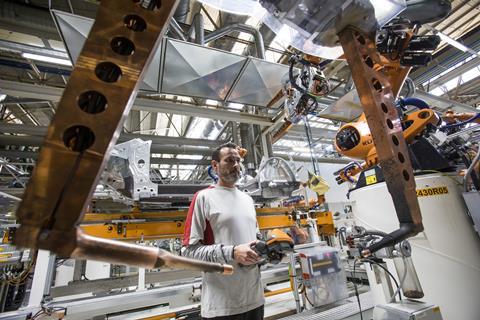 Martorell – the heartbeat of the brand
Seat operates one vehicle plant at Martorell, near Barcelona; here it has two assembly lines, one for the Ibiza and its sister vehicle, the Audi A1; and one for the Leon and the Arona. The larger Ateca and Tarraco SUVs are made by Skoda in the Czech Republic and Volkswagen in Germany respectively. The Alhambra MPV has been built alongside the VW Sharan in Portugal for many years, but production will soon end with no direct replacement planned. The Mii mini car is made by Volkswagen alongside the Up! in Bratislava. The low-selling Toledo was made by Skoda, alongside the Rapid, in the Czech Republic. However, this is unlikely to be continued now that Skoda has switched to the new Scala; at this point there is no sign of a Seat equivalent. Instead more SUVs – such as the Formentor, a coupe version of the Tarraco – and the first Seat EV (the el-Born which will be made by Volkswagen in Zwickau along the VW ID equivalent) will represent the future of the brand.
There has been substantial investment in Martorell (which was opened in 1993 and is located 30km from Barcelona) in recent years and this has helped the brand turn around its previous poor performance. The factory has over 7,000 employees working in an environment that features significant automation and robotisation.
Seat management has been at the forefront in the deployment of techniques attributed to industry 4.0, such as digitisation, the adoption of artificial intelligence, the use of big data and increased robotics. Worker conditions are optimised by the use of exoskeletons, which improve ergonomics and working conditions for assembly line staff. There are 125 AGVs used in Martorell, moving nearly 24,000 parts every day and covering 436,000km a year. The AGVs move engines, gearboxes, shock absorbers or door windows along tracks embedded in the floor, but plans are afoot to replace these with a GPS system.
Daily output at Martorell is around 2,100 vehicles, with the assembly line producing a car every 40/41 seconds at full speed. There are 2,000 robots at work in the in bodyshop, carrying out almost 100% of spot welds. A small amount of ultrasonic laser welding also takes place. After the bodyshop comes the paint line, which is divided in two, with the first workshop for surface priming and the second for paint and lacquering. Press parts come from a press shop in Seat's Zona Franca factory, and several key assemblies are delivered on a JIT basis from nearby supplier parks.
Paintshop investment
The Martorell paintshop has also seen notable investment to produce the two-tone finish for the Arona and A1. Just over 1,100 people work in the paintshop, with around 1,050 directly involved in the painting process. It can process 2,450 bodies a day at its peak (with some 650 requiring the two-colour finish), and is currently running three shifts, dealing with five different models, with a sixth, the Cupra Formentor, due to be added to line by the end of 2019.
Painting in two colours is not simple. First the whole body receives a covering of the colour to be used for the lower body; once this is dry, the lower part of the body is manually covered with masking material, with the roof then receiving the second colour. The time-consuming element of masking the lower bodies means that two-tone vehicles take around eight hours to be painted, i.e. two hours more than single colour vehicles. Consideration has been given to reversing the process, i.e. painting the roof first and only covering the roof before the body is painted, but colour overlap problems meant this route has not been not followed.
Once painted the bodies are then baked at 140°C; inside the baking tunnels, six cameras take 1,000 photos of each body from a variety of angles to identify defects or faults; Martorell was the first VW group plant to apply this technique, in 2016.
Workers' conditions on the assembly line have been improved by the use of biomechanical supports, such as exoskeletons, and the employment of cutting-edge virtual reality technologies. For the past four years, Seat's in-house CARS Health and Rehabilitation Centre has carried out over 4,000 studies of workers' joints and muscular activity. On the production line, 20 cameras and various sensors capture workers' movements, with virtual reality techniques using this data to simulate the assembly line work and suggest improvements to the system.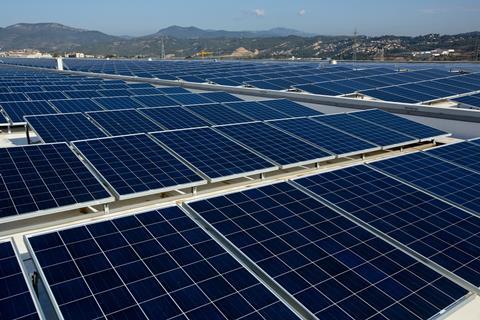 Increased environmental focus
Elsewhere in the plant, a major effort has been put into saving water, especially through recycling in the paintshop and the rain-test booth. The factory uses 1.2m cubic metres of water a year, equal to 470 Olympic swimming pools, and Seat aims to cut this by as much as 38% before 2025. Key means to achieve this include the recovery of condensed water from the factory's air conditioning; monitoring the weather closely to optimise when to water the factory's green spaces; and careful water use throughout the manufacturing process. Water consumption was cut by around 25% between 2012-2017, with energy consumption reduced by 23% over the same period, and further cuts are planned for the next five years. The installation of photovoltaic cells on the factory roof was the largest such system in the industry worldwide when installed, with 53,000 solar panels saving 7,000 tonnes of CO2 annually.
Environmental issues are playing an increasing role at Seat. In April 2019, the brand launched the Life Metamorphosis project, which produces biomethane from organic waste. Much of the waste for this comes from Barcelona, which produces around 2.5m kilos of waste daily. Collected every day, the waste is fed into a set of 26-metre-tall anaerobic digesters, equal to around an eight-storey building in height. The process takes 30 days and produces biogas with 65% methane; it is refined before being ready for use in any gas-powered vehicle, with subsequent 'waste' from the process being used as fertiliser.
The gas generated by the process could power 3,750 Seat Leons for a year according to the OEM; currently, three Leons and one Arona are on test, driving up to 30,000km a year using gas from this project to evaluate the impact of bio-gas on current engine components. Seat is keen to be more than just a manufacturing subsidiary of VW, which is why Luca de Meo, chairman of the carmaker's executive committee, established the Seat Metropolis Lab Barcelona to explore sustainable mobility solutions. This is is a key part of Barcelona Tech City, a local network (or ecosystem as it is known) of Spanish tech start-up companies.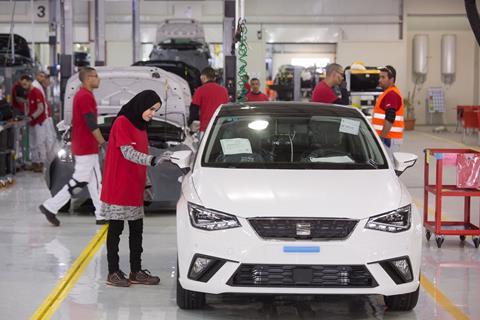 New management direction
Much of the recent improvement at Seat is down to the work of De Meo, who was brought in from Alfa Romeo in 2009, first to run Audi and then switching to Seat in 2015. De Meo had a tough task as Seat had racked up losses of more than Ä1 billion between 2009 and his arrival in 2015. Part of these losses was down to low production volumes; the Martorell factory needs to make over 400,000 vehicles a year to break even; back in 2009 it made just 301,000. One of the first things Di Meo did to boost production was convince Audi to let Martorell make the compact Q3 SUV; this has now been transferred back Audi, and is made in Hungary, but volumes at Martorell have been maintained with Seat taking on the A1 small car, a sister to the Ibiza.
The transformation of Seat will continue with its move into the electric and electrified segments. It will launch six electric models by 2021, including: an electric Mii, the el-Born, and a plug-in hybrid of the Tarraco (all of which will be made by Volkswagen). There will be hybrid versions of Cupra performance models; the Formentor SUV-coupe (to be made in Martorell) will also have a plug-in hybrid system, as will the Cupra Leon. In addition, Seat is expected to be the lead brand for micro-mobility for the VW Group. In this regard, it showed the Minimo urban mobility concept vehicle at the 2019 Mobile World Congress in Barcelona, and at the Geneva motor show, a vehicle akin to the Twizy made by Renault in Spain.
Africa; the new frontier …
Outside Spain, Seat is now producing vehicles in Algeria. Assembly takes place in Relizane, in a joint venture plant between VW and local company Sovac. The first model to be made was the Ibiza, followed by the Arona and Leon in mid-2018. The Seat brand has also been given the task of leading VW sales into North Africa and will be the dominant brand made at the factory, which can also make VW, Audi and Skoda models.
A total of 53,000 vehicles were assembled at the Relizane plant in 2018, of which 22,000 were Seats (almost a three-fold increase on the 2017 volume). Other models made there include the Audi A3 sedan and sportback, Q2 SUV; Skoda's Fabia, Octavia and Rapid; and Volkswagen's Polo, Golf, Tiguan, Passat and Caddy. All of these are essentially made from kits imported from Germany, Spain and elsewhere, but over the next few years, as production shifts to more Seats, a local supply network will be established, including some Algerian operations of Seat suppliers in Spain.
As well as expanding in North Africa, low volume assembly is expected to begin in Chile by the ned of 2019, although no details have been released yet on what will be made there, nor in what volumes.