Opel management believe the Rüsselsheim plant is secure for the next decade but, with compact cars sales in decline and competition fierce, serious questions remain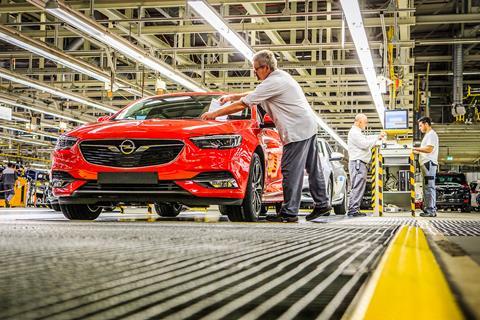 In January 2019, press reports in Germany said Opel would cut output at Rüsselsheim this year from 123,000 to 68,000.
Zafira production finished mid-year and Insignia volumes continue to slide as large sedan/estate demand falls while crossover volumes continue to grow. In in early October, Opel confirmed it was cutting working hours for at least six months. 600 jobs were cut in June, while the remaining 2,600 will now be on short time, with their wages maintained at normal rates, thanks to government subsidies under the German "Kurzarbeit" scheme. Existing labour agreements are understood to preclude any more job cuts before the summer of 2023.
The loss of Zafira and further cuts in Insignia volumes mean that the plant is currently running at just 40,000 a year, less than ¼ of its capacity on a two-shift basis. This reduced production includes some production for non-European markets, notably Holden in Australia and without this the situation at the factory would be truly bleak.
The plant will receive some succour in 2021 when the new Astra is added to the assembly line. Exact arrangements for the Astra have yet to be confirmed, with PSA also "committing" to some Astra production in the UK if the UK reaches an acceptable Brexit agreement with the EU.
Interestingly, PSA CEO Carlos Tavares has suggested that if the UK's deal with the EU makes continued production in the UK uneconomic a second Astra production site has already been identified; rather than concentrating production of the new Astra in one location, eg Rüsselsheim, it seems that, no matter what, Opel will continue with the bizarre policy of producing a vehicle made at less than 200,000 a year in two locations; at best, Rüsselsheim will likely make around 100,000-125,000 Astras a year which, even with perhaps 30,000 Insignias, will still mean it operating well below capacity.
Nonetheless, officially, Opel management believe the plant is secure for the next decade – which may be true in theory, but with sales of compact cars continuing to declining and models like Golf, Focus and even the Peugeot 308, continuing to be produced at much higher volumes, serious questions remain over Rüsselsheim.
Much of the site's engineering resource and capability has been transferred to Segula, an engineering services company; although the remaining engineering capability has been allocated lead responsibility for certain PSA group functions, including fuel cells, there is a real sense, when viewed from afar, that this is really not much more than tokenism and within a short period of time, all of Opel's former engineering prowess will have been supplanted by PSA's French engineering sites; and Rüsselsheim's days as a major production location are clearly over.
Unless there is a change in product allocation and the factory receives the lead production for new crossovers, and especially new full electric vehicles, it is difficult to see Rüsselsheim remaining a significant player in the European automotive manufacturing sector. Engineering and producing small and mid-market cars in Germany is difficult when the models concerned are experiencing declining volumes.
The Corsa has switched 100% to Spain, while the economics of making the Astra in two locations is surely open to doubt; and if Opel is facing these problems, surely Ford is too – how long before Cologne (Fiesta) and Saarlouis (Focus) begin to face the same problems as Opel and Rüsselsheim?