As the cars themselves become cleaner, manufacturing operations can't stay behind. In an effort to achieve carbon neutrality, OEMs turn to large-scale solar developments to power their plants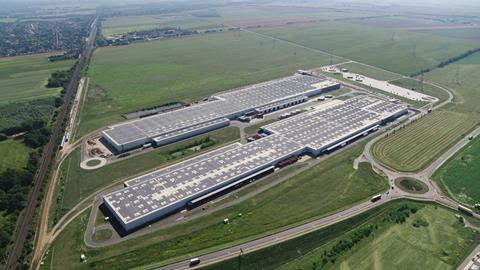 With the launch of the Cadillac Lyriq a­­nd the GMC Hummer electric SUVs, GM has initiated its latest push for electrification and solar power looks to be its weapon of choice to decarbonise the production.
Things are bigger in the US
It is starting a project in Arkansas with producer of photovoltaic panels First Solar. The new solar field will produce 180MW when it is completed in 2023. That should be enough to completely power the Wentzsville Assembly plant in Missouri, as wells as the Lansing Delta Township Assembly in Michigan, with power remaining for the Lansing Grand River Assembly facility.
"As GM continues its transition to an all-electric, zero-emissions future, it is imperative that we also invest in a cleaner grid that can support everything – from our factories to our vehicles," said GM chief sustainability officer Dane Parker.
First Solar, which is supplying the solar modules, is a US-headquartered company and produces a considerable number of the cells in the US, at its facilities in Perrysburg and Lake Township, Ohio. The cells are a proprietary First Solar design that the company claims uses less energy, water and semiconductor material to make, and makes the panels 90% recyclable at the end of their lifespan.
For some of its other plants, GM has closed deals with energy suppliers to make sure the plants use renewable energy. For its 'Factory Zero' in Hamtramck and the assembly plant in Orion, Detroit, GM has made a deal with energy supplier DTE for 500,000MWh of solar energy. DTE is also working on two new solar parks. The same deal also powers its headquarters, technical centre in Warren and the Milford proving ground.
The Spring Hill, Tennessee facility, which will make the Cadillac Lyriq EV, will be powered by a 100MW solar farm in Lowndes County, Mississippi that is currently under development by Origis Energy. By 2023 GM expects 60% of its energy usage in the US to come from renewable sources, aiming for 100% renewable energy by 2030.
"Our ambition is to reduce our carbon footprint through concrete, tangible actions. Securing a fully renewable electricity supply for our largest plant in China is a significant milestone and underlines our commitment to taking concrete, meaningful action" – Javier Varela, Volvo Cars
European OEMs got there first
Some of the European OEMs are a lot further down that line, however. Audi announced that this year, its Hungarian manufacturing facility would be the second to become carbon neutral, a goal which its Belgian plant, which produces the e-tron electric SUV, achieved in 2018. Audi claims that since the start of the year, all of its own assembly plants (Ingolstadt, Neckarsulm, Brussels, Győr and San José Chiapa) have been using only green power.
Audi is also turning to solar to achieve those goals. The Hungarian plant in Győr is able to be carbon neutral thanks to new photovoltaic roof installations, as well as a geothermal facility which opened in 2012 and covers most of the plant's heat requirements. Those two sources are topped up with biogas certificates. The unavoidable carbon emissions, such as from engine testing, are compensated with carbon credits.
The solar installation was built in cooperation with energy supplier E.On and sits on top of the plant's two logistics centres. Its 36,400 solar cells cover an area of 160,000 sq.m, providing up to 12MW. The array on the roof of the plant buildings in Brussels is a bit smaller, at 37,000 sq.m.
Patrick Danau, managing director of Audi Brussels, commented: "We see this as an obligation to society that pays off for all sides." A spokesperson said that the solar arrays are generally seen as investment into future competitiveness.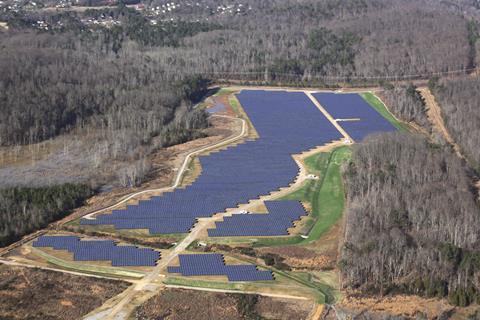 All five of Audi's own assembly plants have been using renewable energy since the start of the year. Some plants that are shared with other VW group brands will follow a little later, aiming for 2023 in Europe and 2030 in the rest of the world. Audi's plant in San José Chiapa in Mexico switched to renewable energy at the start of the year, from Mexican energy company Ammper, which owns a solar array that it built in the state of Chihuahua. The VW brand inaugurated the 9.5MW, 130,000 sq.m solar plant for its Chattanooga, Tennessee, back in 2013.
For BMW, solar power was part of the plan when the plant in San Luis Potosi, Mexico, was built. The facility opened in 2019, along with an onsite solar plant constructed and operated by BayWa Renewable Energy. Covering 71,532 sq.m, it powers the assembly building, or around 20% of the plant's total energy demand. The rest is green energy that's bought in.
The BMW group has pledged to only purchase green energy from the end of 2020, while also generating its own renewable electricity, through a wind farm at Leipzig, a methane gas system at Spartanburg, and photovoltaic systems at Shenyang, San Luis Potosí and the Mini plant in Oxford.
Volvo, too, is big on solar, having installed 15,000 panels at its Ghent factory on the way to making its global manufacturing operations carbon neutral by 2025. The Belgian plant supplements that with 11% wind power, while Volvo's Chengdu, China, operations switched to 100% renewable energy earlier this year.
Javier Varela, head of manufacturing and logistics at Volvo Cars, said: "Our ambition is to reduce our carbon footprint through concrete, tangible actions. Securing a fully renewable electricity supply for our largest plant in China is a significant milestone and underlines our commitment to taking concrete, meaningful action."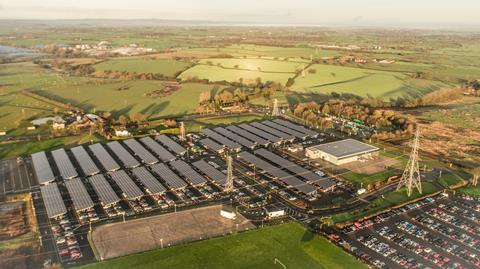 Even some smaller players like Bentley are using solar power to decarbonise manufacturing. Last year, FlexiSolar installed 10,000 solar panels over one of its car parks at its factory in Crewe, creating what it calls a 'solar car port'. FlexiSolar said it was able to install the panels in sections, so that the car park remained usable during the installation work.
Together they put out 2.7MW, cover 16,426 sq.m, and could save 3,300 tonnes of CO2 per year. Including the 20,815 panels that were installed on the roof of the factory in 2013, Bentley gets 7.7MW from its own solar arrays. Thanks to the solar arrays, the Crewe plant achieved carbon neutrality later that year and was reaccredited in October this year