In its new regional strategies for 2020, the Renault-Nissan-Mitsubishi Alliance announced that it wants Mitsubishi to spearhead activities in South-East Asia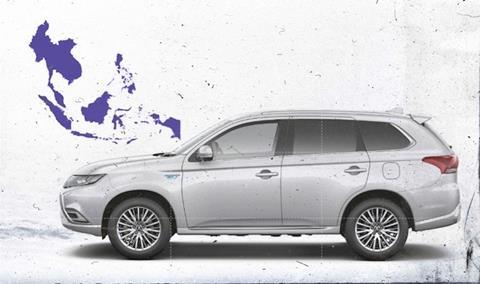 Back in May 2016, Nissan took control of Mitsubishi with just a 34% stake, thanks in part to a Japanese corporate law that allows one company to take control of another without needing a 51% stake. The role of Mitsubishi within the Renault-Nissan Alliance has been questioned ever since and with various fissures emerging, particularly since the Ghosn scandal, speculation has intensified.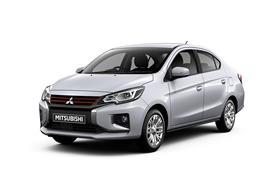 Renault and Nissan have now moved to reassure the outside world that the Alliance has a future, and in January this was extended to include a new framework for Mitsubishi. Nissan will lead for the Alliance in China, Renault will lead in Europe and Mitsubishi will be the lead brand for the alliance in South-East Asia. More details will be released on these regional strategies in May.
Further cause for clarification of Mitsubishi's role came when it reported an operating loss of 6.6 billion yen ($60.2m) in Q3/2019-2020 against a previous forecast profit of 11.6 billion yen, a total swing of over 18 billion yen. This loss was actually Mitsubishi's worst quarterly performance in over three years, with reduced sales in Japan, China and South-East Asia as a whole; the strong yen did not help, especially with exports from Japan. Globally, Mitsubishi sales fell by 16% to 320,000 for the quarter.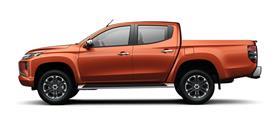 Mitsubishi's largest markets are China and Indonesia (both c.140,000 in 2018), followed by the US (c.124,000) and Japan (just over 100,000). Outside its top four markets, the carmaker holds second place in Philippines, with a 15% share, and just over 64,000 sales in 2019 – some way behind Toyota's 161,000 sales and 39% share. Interestingly, Nissan was third, with a 10% share and nearly 43,000 sales. Despite not making vehicles in Europe, Mitsubishi managed to sell just under 236,000 in 2018, with its top three regional markets being Germany, Russia and the UK.
Asian production network
Mitsubishi has production operations in Japan (661,000 vehicles made in FY2018), Thailand (384,000 vehicles), Indonesia (174,000 vehicles), China (136,000 vehicles), Taiwan (34,000 vehicles) and Philippines (23,000 vehicles); also 18,000 are made in Brazil and 12,000 in the rest of the world, including a small volume in Russia. Asia is where its focus will lie, although sourcing vans from Europe will take place in the near future filling a gap in the company's range.
Total production is around 1.44m units.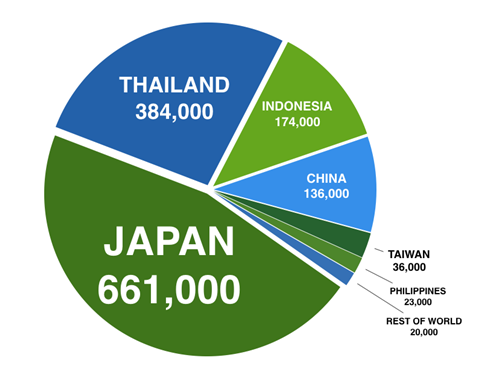 Japan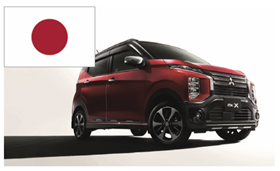 Production takes place at two factories, at Okazaki (south-east of Nagoya) and Mizushima (in the west of Japan between Hiroshima and Osaka): Okazaki produces the Eclipse Cross and Outlander crossovers, while the Mizushima makes the small eK and Dayz ranges and the compact RVR crossover.
Thailand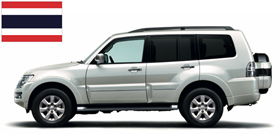 Mitsubishi has a vehicle plant at Laem Chabang in the east of the country, mid-way between Bangkok and Rayong and an engine and pressed parts factory at Chon Buri, located to the north of the vehicle plant. The main model made in Thailand is the Triton pick-up, sold as L200 in Europe. Production in 2018 was just over 194,000. The plant also makes the Pajero Sport SUV, which, like the L200, is sold worldwide, with just under 51,500 made in 2018. The plant also makes the Mirage (c.77,500 in 2018) and Attrage (c.61,000 in 2018).
Indonesia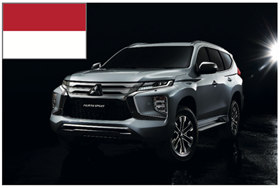 Mitsubishi's vehicle plant at Bekasi, just east of Jakarta, assembles the Xpander crossover for the local and regional markets, with just over 122,000 produced in 2018. The plant also makes Pajero Sport (c21,000 in 2018) and Delica/L300 truck (c24,000 in 2018); the Xpander is a major contributor to rising sales in Thailand, one of the few recent bright sports in Mitsubishi's south-east Asian business.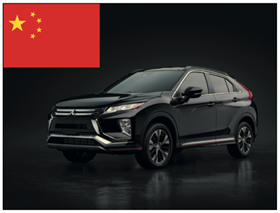 China
A joint venture with GAC in Changsha made nearly 136,000 vehicles in 2018, divided: c95,000 Outlanders, c26,000 RVR/ASX and c15,500 Eclipse Cross.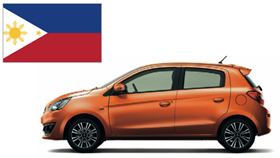 Philippines
At Santa Rosa, Laguna – due south of Manila – sits a car plant, making the Mirage and L300 van; and a transmission plant. Philippines vehicle production is for the local market, with nearly 23,000 vehicles made in 2018; models made are the Delica/L300 van and Mirage/Attrage.
Taiwan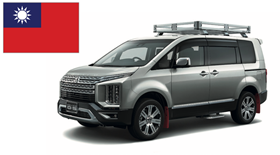 In 2018, local assembler CMC made nearly 34,000 units, a mix of Delica, Outlander, Galant, Colt Plus and the Veryca; the last named accounted for close to half of production.
Malaysia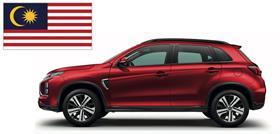 There is also small kit assembly operation here which makes the RVR/ASX and Outlander models, with just under 1,700 assembled in 2018.