With contributions from Volkswagen, Toyota, BMW and Audi, AMS looks at some of the strategies OEMs are using to attract and retain employees with the skills needed to work in modern digitalised workplaces – and to adapt to cutting-edge developments in hybrid, electric and autonomous vehicles …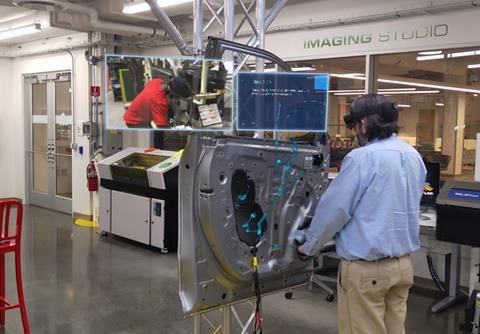 While the automotive sector builds increasingly sophisticated and technologically complex vehicles, companies face a growing number of challenges in recruiting, training and retaining skilled staff for their manufacturing operations.
As engagement director for talent retention solution at Winchester Consulting, Richard Smith knows of the challenges that firms face in attracting employees with the skills needed to work in modern digitalised workplaces – and to adapt to cutting-edge developments in hybrid, electric and autonomous vehicles.
"As far as training is concerned, upskilling of the existing workforce will continue to be a focus for businesses as they maintain current commitments while in transition to new technologies," he says.
"For retention, doing more with the people we have will be hugely important to companies of all sizes. With EU labour uncertainties going forward, businesses with excellent retention and people development strategies are those that will thrive," he adds.
When it comes to creating such strategies, Smith believes a company should begin by focusing on "bread and butter stuff" like "doing more with the people it already has in the workforce." When redundancies happen, he advises companies to help in retaining people in the sector by making it easy for other employers to find them quickly and cost effectively without the need for hefty recruitment costs.
"Building relationships with universities and colleges is also very important for finding new talent entering the industry – particularly apprentices, graduates and even undergraduates seeking placement and internship opportunities. In many cases, universities and colleges have departments and staff dedicated to supporting employer and industry engagement," says Smith.
"Employers reach out too, and the larger companies tend to find the people they need. It's the smaller companies who more often struggle to find new talent. With over 70 universities across the UK offering STEM courses, the opportunity, some could argue, has never been greater, but to what extent are we broadening our search as employers? For example, are we confining our search to a handful of providers we have always worked with?" he asks.
A 'war of talents'
One company prepared to adapt its approach to recruitment is Volkswagen, which has established the innovative Fakultät 73 qualification program to train junior software developers inside the automotive industry. As Andreas Spaeth, project manager in the Fakultät 73 team, explains, when it comes to recruiting staff able to work on the type of state-of-the-art digital systems featured in modern vehicles, there is currently a 'war of talents' between companies.
"VW is not known as a software company. For that reason, we, as well as our competitors, search for the same software engineers. In order to fulfil our goals, we need to discover new recruiting methods, in order to stay ahead. Fakultät 73 is one part of this recruiting process," he says.
The two-year programme, run by the Volkswagen Group Academy, trains skilled and motivated employees in the software development skills necessary to work at the company. According to Spaeth, one of the biggest advantages of the programme is that most students are already part of the Volkswagen Group.
"They already know the processes and internal regulations, and have an understanding of internal networks and tasks. Furthermore, they are highly motivated to bring the Volkswagen brand into the future, because they are already part of the Volkswagen family. Fakultät 73 is a key part of our digital transformation and feeds into our social sustainability [strategy]," he says.
Problem solving
Another highly innovative approach to staff training has been adopted at the TILT Lab, established in 2017 at Toyota North America's Production Engineering & Manufacturing Center in Georgetown, Kentucky. As TILT lab manager, John Tierney, explains, the lab is a maker-space and prototyping shop with the mission of enabling its team members to 'accelerate problem solving, decision making and new technology development.'
The lab consists of two teams, one dedicated to running the everyday operations of the lab itself and making and supporting the creation of physical prototypes, and another dedicated to investigating new technologies and supporting the development of these for manufacturing use.
"We've used virtual reality (VR) primarily for pre-production engineering purposes when we don't yet have prototypes of the vehicle parts or manufacturing equipment itself. It's during these early phases of a new model launch project that we use VR for evaluation of the early CAD designs of the vehicles for manufacturability. Later in a new vehicle project, once we actually have the physical prototypes of the vehicle components, we use augmented reality to pull ahead the training of our production team," says Tierney.
By using augmented reality (AR), Tierney says the lab can enable its team members to "interact with physical prototype parts while overlaid with the AR hologram of the equipment that will eventually manufacture it."
"In this environment they can then begin to develop and evaluate the standard work for their manufacturing process, and do this much earlier than if they needed to wait on the final equipment to be constructed. Afterwards, this same environment of the physical vehicle part, along with virtual equipment, can be used to conduct offline training of new team members more efficiently," he says.
Toyota modelled all the AR and VR testing environments at the lab on best practices in the media and entertainment industry – including high-end gaming PCs, modular truss systems and motion capture. Although it has a variety of VR equipment, Tierney points out that the lab primarily uses headsets from HTC alongside custom-built computer hardware from Silverdraft.
For augmented reality work, the lab primarily uses Microsoft's HoloLens 2 hardware with its Guides software. According to Tierney, the portability and ease of use of this setup allows staff to observe developments "on the actual factory floors" and work directly with its team members in training centres throughout the US.
"One of our biggest challenges is training new team members in such a way that we don't disrupt the productivity, or quality, of our manufacturing processes. AR allows us to move much of that training offline into a mixed digital and physical environment. Here, the trainee can accurately visualise a holographic production environment while still interacting physically with the real parts and components that they'll be working on," he says.
"These techniques help master trainers spend less time supervising in-line and more time working with new team members. Advanced computer vision also allows us to more accurately monitor and coach team members through proper techniques and standards," he adds.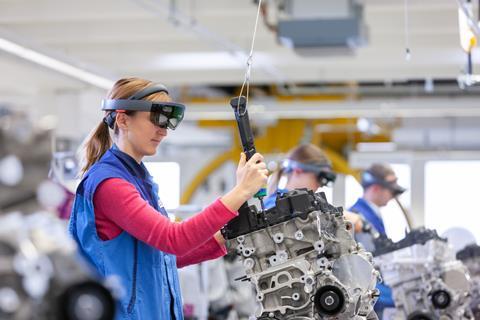 Flexible delivery
Another example of the use of cutting-edge technology for training is at BMW, which has introduced a number of interesting approaches to training and employee induction based on VR and AR technology. A prominent example of this approach is at its Production Academy, where AR headsets are used to train managers and specialist staff as part of sessions focused on engine assembly units and the principles of lean production, before participants pass the knowledge gained to shop-floor workers.
"In our understanding, the most significant benefits of augmented reality technology are in training, including in the onboarding of new employees and training for new processes – for example, based on video content," says Matthias Schindler, cluster manager, virtual planning and commissioning, at BMW Group - Production System.
Elsewhere, Audi is currently testing assembly processes for its e-tron GT model entirely virtually, using VR glasses and controllers at its Neckarsulm site. As part of this process, the German outfit has created dedicated VR software that uses 360-degree scans to provide users with a complete three-dimensional indoor map of the virtual space.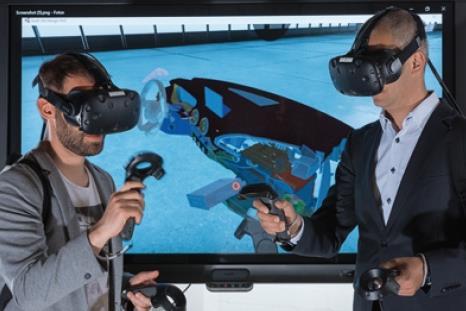 As Jens Angerer, VR specialist at the Audi Production Lab, explains, a key result of this virtual planning and testing process is that the company will possess virtual data for "a lot of workplaces in the future" and, with the help of specialist software, be able to generate virtual training programs using the data. "Our employees can then train for new work processes or products without the need for them to already be implemented. This will save time and money – since no further training equipment or physical prototypes are necessary – and is highly motivating for our employees, who will profit from these state-of-the-art training methods," he says.
For Angerer, another key benefit of VR-based training in production and logistics systems is the fact that it can be accomplished flexibly at any location, meaning the company "saves valuable space as well as time and money."
"The training program immediately gives employees feedback and they can repeat each exercise as often as they wish. Various language versions can be run with little effort, so that Audi employees can now also train with Spanish or English instructions. An employee in Ingolstadt Logistics can also work virtually in the Audi plant in San José Chiapa, Mexico, and vice versa," he adds.