Honda has announced plans to close its Swindon plant at the end of the current model's production lifecycle in 2021. The statement, which was published on the company's website, refers to the changing nature of the global auto industry and Honda's "commitment to electrified cars" as the main reasons behind the decision.
"In light of the unprecedented changes that are affecting our industry, it is vital that we accelerate our electrification strategy and restructure our global operations accordingly," commented Katsushi Inoue, chief officer for European regional operations, Honda, and president of Honda Motor Europe. "As a result, we have had to take this difficult decision to consult our workforce on how we might prepare our manufacturing network for the future. This has not been taken lightly and we deeply regret how unsettling today's announcement will be for our people."
The Swindon plant is home to production of the Civic Hatchback and Civic Type R, with over 150,000 units produced every year. It also houses production of the company's VTEC turbo petrol engines and diesel i-DTEC engines. Honda began making engines in Swindon back in 1989 and cars in 1992. Around 3,500 people currently work at the facility.
News of the Swindon closure has come at the same time as Honda's decision to stop making the current Civic at its plant in Turkey, which will also take place in 2021. This plant is much smaller than the one in the UK, and currently makes around 38,000 units a year. Honda has said it will "continue to hold constructive dialogue with Turkish stakeholders during this period."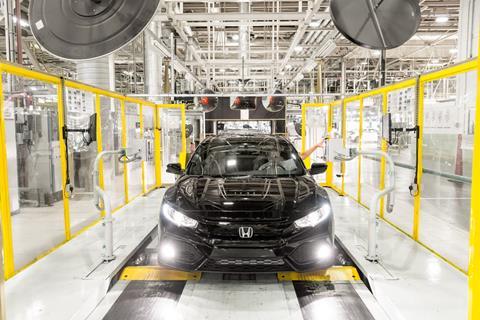 Creating hubs
The cars made at Swindon are exported to over 70 countries, with North America taking the largest portion at 55% of all cars produced. Around 20% is exported to Europe, while 15% stays in the local market, 8% is sent to Japan and 2% to other parts of the world.
Back in 2015, Honda said it was spending £200m (US$258.21m) on its Swindon plant in order to ready it for production of the tenth-generation Civic. The idea was to turn the plant into a "European hub" for Civic production. AMS visited Swindon in order to find out more about the investment, the majority of which was spent on the press and body shop to house a new welding method to bring the body together.
The OEM also selected its plant in Ontario, Canada as the "hub" for CR-V production in 2015. Demand for larger vehicles such as SUVs and pick-ups has been continuously rising in North America for years, with sedan sales dropping. Furthermore, Honda now has six plants in operation across North America, and its facility in Ontario is capable of making both the Civic and the CR-V. "Given our efforts to optimise production allocation and production capacity on a global scale, we have concluded that we will produce the Civic for North America in North America," confirmed Takahiro Hachigo, Honda's CEO.
The OEM recently invested US$61.5m in its Indiana and Ohio plants, readying them for production of electrified vehicles. It started building the all-new 2019 Insight hybrid at Indiana in May 2018. This plant alone has an output of 250,000 units a year - around 100,000 more than Swindon.
In 2017, Honda said it would stop making cars at its Sayama plant in Japan in 2022, consolidating production at its nearby Yorii facility which is located just over an hour's drive from Tokyo. Similar to Indiana, the Yorii plant has capacity for making 250,000 models a year. It also sits next to a business park that is home to around 40 of Honda's components suppliers.
With facilities in both North America and Japan boasting far greater capacity, Honda's presence in the UK would need to be justified by other advantages such as location, access to markets and access to skilled workers.
Avoiding the obvious
Honda did not refer to uncertainty surrounding Brexit in its statement. In fact, Ian Howells, senior vice-president for Honda in Europe, explicitly told the BBC that the move was not made because of UK's decision to leave the EU.
"We're seeing unprecedented change in the industry on a global scale," he explained. "We have to move very swiftly to electrification of our vehicles because of demand of our customers and legislation. This is not a Brexit-related issue for us, it's being made on the global-related changes I've spoken about. We've always seen Brexit as something we'll get through, but these changes globally are something we will have to respond to."
The UK and European market for electric vehicles, he suggested, is not strong enough to warrant production of electrified Honda vehicles in the region. However, demand for electrified vehicles in the UK has never been higher. Figures from the Society of Motor Manufacturers & Traders (SMMT) show that sales of electric vehicles (EVs), plug-in hybrid electric vehicles (PHEVs) and hybrids rose to 11,014 during January 2019, up 26.3% when compared to the same month in 2018. Although this represents a significant increase, sales of electrified vehicles remain minuscule in comparison to petrol and diesel vehicles, which totalled 103,176 and 46,823 units respectively in January 2019.
Source: SMMT
Several other companies, such as Ford and Jaguar Land Rover, have also recently announced temporary plant closures, and have highlighted worries over Brexit as the primary reason. Furthermore, Nissan has pulled plans to build its X-Trail in Sunderland: "We appreciate this will be disappointing for our UK team and partners. Our workforce in Sunderland has our full confidence, and will continue to benefit from the investment planned for Juke and Qashqai," stated Nissan chairman Gianluca de Ficchy.
A sharp decline in demand for diesel vehicles is also likely playing a key role, with sales dropping by 20.3% during January 2019. SMMT data shows that demand for new cars in general is falling in the UK, with January marking the fifth consecutive month of negative sales, following on from a 6.8% drop for the whole of 2018. Chief executive Mike Hawes has repeatedly singled out Brexit as the reason for consistently falling sales in the UK market.
Honda's UK sales fell by 13.59% in January 2019, with just 3,700 units sold compared to 4,282 in January 2018. Other Japanese brands also witnessed a decline, with Hyundai sales dropping 10.13% and Nissan 11.97%.