Upgrades at the home of GM's full-size SUV production help to launch the new Chevrolet Tahoe and Suburban models for 2020
With manufacturing efficiency and quality control technology at the forefront, the Arlington Assembly plant in Texas has seen significant investment in the run up to GM's latest model SUV launches. A $1.4 billion upgrade programme has funded major expansions to the bodyshop and paintshop at Arlington, aimed at improving production efficiency and build quality of the latest generation Chevrolet Tahoe and Suburban models.
Bill Kulhanek, plant executive director at Arlington Assembly said: "This strategic expansion brings the latest in manufacturing and inspection technologies, while adding procedures designed to improve the quality and durability of the Tahoe and Suburban."
"More than the physical changes, the Arlington upgrades increase assembly flexibility in the plant, allowing for more model and trim variations," Kulhanek added.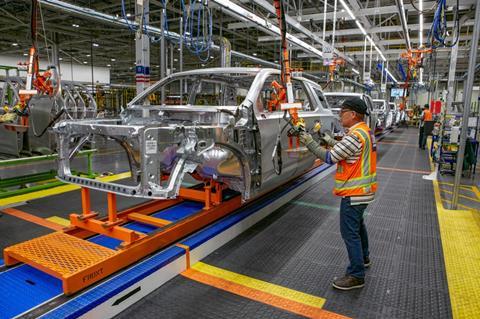 Bodyshop
The largest phase of the Arlington upgrade is an all-new 1 million sq.ft bodyshop fitted-out with 1,450 new robots, almost double the inventory from the previous facility. The upgrade was prompted in part by new body structures that the 2021 Tahoe and Suburban now incorporate, such as the integrated front-end assembly welded to the body rather than bolted on.
Mike Stevens, launch manager for Tahoe and Suburban said the new facility was, "a stronger, more precise foundation on which the vehicles are assembled." Stevens added: "With the all-new inspection technologies incorporated, we've taken quality control to an even higher level."
The array of new systems includes:
automated dimensional and parts placement stations using cameras and lasers to locate body components for assembly and ensure dimensional accuracy prior to weld
non-contact inspection systems that accommodate temperature fluctuations and other variables in the plant
cameras and laser scanners to locate pierce points in body panels for fasteners
a laser-based quality audit system with robot-mounted Leica scanners to produce colour maps of assembled bodies to help inspect dimensional accuracy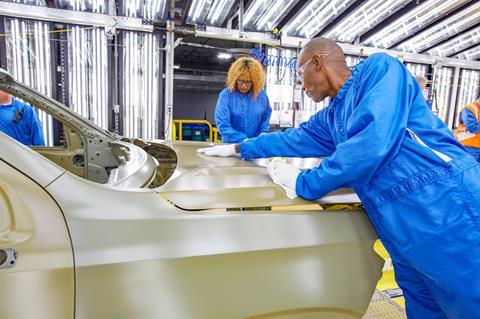 Paintshop
Arlington's paintshop has also benefited from GM's recent investment with a 600,000-sq.ft extension to the facility and new and revamped processes. These include a new "thin film" pretreatment process, a more environmentally-friendly set up, GM said, as it precludes the use of more caustic material for etching metal parts.
A further new feature within the paintshop is the switch to processing the front fenders and hood in line with the rest of the BIW, giving the integrated front-end assembly a smoother appearance.
"We are now able to perform a single, continuous paint application across the body," said Benito Garcia, paintshop project lead. "The more consistent colour spray-out creates a more consistent finish, from front to rear. It's a big win for the paint-finish quality."
In operation since the 1950s, the Arlington plant employs around 4,800 workers. The recent expansion takes the overall floorplan to 5.75 million sq.ft. The facility is among the US's top 100 green power users thanks to its large-scale wind energy supply. The plant is specialises in full-size SUVs and is GM's sole producer of the Chevrolet Tahoe and Suburban, the GMC Yukon and the Cadillac Escalade.
The Arlington expansion is part of GM's $5 billion investment programme for its new, full-size pickups and SUVs production in the US. Other projects include upgrades at Fort Wayne and Flint.
Like what you've read? Then why not become an AMS online member!
As a member you will gain full and unlimited access to our global coverage of automotive manufacturing, including our in-depth coverage of technology, OEMs, regions, suppliers, and materials. Also included are our business intelligence reports and forecasts, and we hope you will also consider joining us at one of our webinars in 2020.
We'll also keep you up to date with regular newsletters and dedicated member only communications, so you'll be the first to know about our latest features, reports and webinars.
To gain unlimited access to the exclusive content and features of Automotive Manufacturing Solutions please SIGN-IN or REGISTER FREE today.