Battery cell manufacturer AESC has inked a deal with Umicore, a leader in battery materials production, to secure a local source of cathode active battery materials in North America.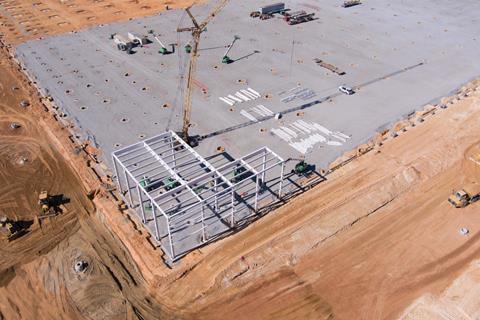 Umicore is on track to establish a key battery materials production facility in Ontario, Canada, capable of producing up to 35 gigawatt-hours (GWh) of materials annually, with operations commencing in 2026. The production plant will serve as a central node in the North American EV battery value chain, bridging the gap from sourcing raw materials to delivering them to EV manufacturers.
"The plant will be fully equipped to produce the most advanced high-nickel technologies and is prepared for future battery chemistries, including manganese-rich HLM and solid-state batteries," Umicore announced. This future-focused approach aligns with BMW's ambitions to capitalise on the growing demand for automotive electrification.
In the interim, Umicore will supply materials from its facility in Cheonan, Korea, ensuring a consistent flow of resources for BMW and other clients in North America.
AESC's contribution to the EV supply chain
With AESC playing a crucial role in the supply of battery cells to BMW, the company's deal with Umicore strengthens BMW's access to critical battery components and strengthens its positioning for EV production. AESC, BMW's chosen battery cell supplier, is contributing to this regionalised supply chain with the construction of a 30 GWh battery cell plant in Florence, South Carolina. The facility, located only 170 miles away from BMW's Spartanburg assembly plant, is slated to become operational in 2026. AESC already operates manufacturing facilities in Kentucky and Tennessee, further emphasising the strength and stability of their partnership with BMW.
Joachim Post, Head of BMW's Purchasing and Supplier Network, commented, "Our battery cell supplier in the US will source key primary materials from Canada going forward. We are pleased that Canada is playing a strong role in establishing a robust and efficient battery cell supply chain for the BMW Group in North America."
As part of its regional project, BMW is also constructing a $700m battery assembly plant in Woodruff, South Carolina, located just a 15-minute drive from Spartanburg. The facility will be a critical node in BMW's localised supply chain for EV production and will specifically provide high-voltage batteries for the upcoming fully electric BMW X models.
The Woodruff facility, spanning 93,000 sq.m, will be instrumental in producing sixth-generation battery modules, enhancing energy density by over 20% and improving charging speed and range by up to 30%. These advancements are set to enhance the overall performance and competitiveness of BMW's EVs in the market.
BMW has outlined plans to launch six EV models from its Spartanburg production facility by 2030. The OEM also recently announced a €100m ($105.4m) investment in a battery testing centre in Wackersdorf, Germany, scheduled for completion by 2026. This facility, located at the heart of BMW's innovation efforts, will focus on the development of high-voltage batteries and other electric powertrain components, underlining the company's dedication to advancing EV technology. With structural work already underway and the first section set to be commissioned in mid-2024, BMW is determined to expand its footprint in the global EV market.