As automotive manufacturing becomes increasingly complex, primarily driven by rising demand for more sustainable production processes as well as zero-carbon vehicles, the question of flexibility is becoming more central to both producers and customers.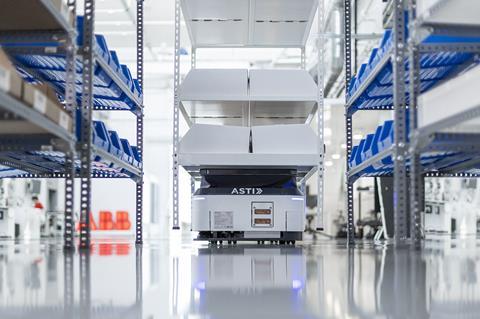 In an exclusive livestream and interview hosted by ABB, industry insiders outlined how new manufacturing methods and technologies are increasing production flexibility for OEMs and suppliers, ranging from startups to legacy companies.
Significant growth in powertrain variety is leading to manufacturing transformation, with a particular push for further flexibility, according to Joerg Reger, managing director of ABB's Auto OEM business line.
"There is more complexity in the powertrain, meaning you also need a change in the production and in the manufacturing and the only way to move forward there is flexibility," he said.
Citing an Ultima Media report, done in partnership with ABB, he pointed out that powertrain variety would increase the need for manufacturing flexibility. "This report says that manufacturers need to produce up to six separate powertrain types in the future," he said, including ICE (internal combustion engine), pure electric, plug-in hybrids, mild hybrids and hydrogen fuel cell. This mix means that producers are increasingly concerned with more adaptable manufacturing methods so they can produce multiple models simultaneously, and more quickly adapt to changes in regulations and technology.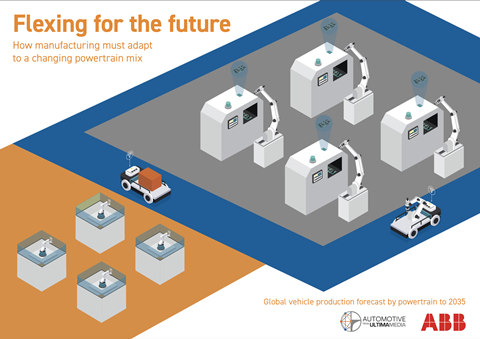 According to one of the report's authors, Ultima Media automotive analyst Daniel Harrison, the mix of powertrains will become more fragmented over the next decade and will shift at significantly varying speeds across regions – a variety that will further complicate manufacturing and supply chains.
Modular production and logistics
Reger outlined critical steps for keeping up with the fast growth in powertrain variety, such as investing in autonomous mobile robots (AMRs) and introducing smart logistics concepts. Reger also stressed the importance of bringing these priorities together, which would inevitably require high-speed connectivity.
With the shift to more connected, autonomous logistics and material flow in plants, he highlighted the opportunity of adapting more modular, cell-based manufacturing approaches, where manufacturing can happen in flexible, separate cells rather than sequentially in the production line. "Denser cell designs can reduce footprints and make production very easy to scale. Additional application cells can be put in and out with this new flexible environment," Reger said.
He also highlighted the substantial benefit of collecting the data from different production cells and carrying out smart analysis, which can be sent back to line operators to improve maintenance across assembly lines.
"Last but not least, we need partners," he added. "It's a very dramatic change and a big challenge, and therefore we need partners which have dedicated know-how and can help us solve the complexity which is coming up."
Patrick Matthews, global powertrain group manager at ABB, said that emobility was the primary driving force of complexity in the manufacturing process. He said that achieving flexibility must begin by "looking under the hood" to determine the major differences between powertrain types when it comes to vehicle assembly.
He outlined, for example, the differences between the placements of engines and batteries, and explained how new battery packs and control modules are replacing formerly important parts on ICEs, such as mufflers. As EV batteries evolve further, different technologies are leading to powertrains becoming structural members of the vehicle, changing how and where they come into the vehicle in production. Those changes are requiring OEMs to adapt and establish partnerships.
Modular production approaches support these changes, and adapting such a strategy requires a holistic approach to automation, logistics and tooling decisions throughout the entire process, Matthews explained. AMR-related solutions are key to the flexible modular assembly system, making more flexible solutions available in press shop, body, paint, powertrain, trim and assembly. Autonomous logistics flows mean that one station can be retooled while keeping other modules running, for example.
Veronica Pascuel, managing director of ASTI, an AMR company that ABB acquired, also stressed that "flexibility is not an option; it's a must".
"OEMs and Tier 1s need more and more flexibility, and this means having fully connected flows that are very easy to change and are done in a way that are sustaining the fact that we do not know how the behaviour of end customers will evolve," she said.
The combination of industrial robots, AMRs, connectivity, and orchestrated systems creates opportunities for a whole new operational model, she added. It allows manufacturers to more easily scale or reduce lines, as well as to duplicate or connect stations.
"The new model involves mixing the power of logistics and production into a single operating model that increases flexibility and reduces time to market," Pascuel said.
While implementing modular production might be more obvious for greenfield plants, it is just as relevant for configuring brownfields. Increasingly, ICE and hybrids are rolling through the same assembly line, requiring more flexibility. According to Matthews, adapting more flexible modular assembly has helped OEMs to integrate new models and powertrains into plants with a near-zero loss in production.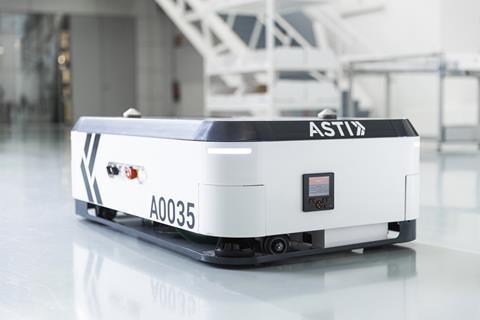 Pascuel used the example of automated parts supermarkets, which use high density storage to maximise the square meterage of the floor, allowing for better use of space particularly at brownfield plants.
The approach also has a sustainability advantage, too. According to Reger, flexible cells in combination with AMRs can lead to a smaller footprint, as can combining logistics and storage to bring them closer to assembly, layouts that support reduced emissions and energy in production.
The advantages and dangers of legacy
Established OEMs use their advantage in scale, but legacy infrastructure, systems and assets often limit their speed and flexibility in production. Startups, on the other hand, do not have to make sweeping changes to production systems and are able to design facilities and processes that are flexible from the start. However, traditional OEMs are also adapting their use of technology to support more modular production and logistics.
"Many OEMs are demonstrating that they are very much understanding how to maximise their usage of technology to promote these new flexible models," said Pascuel.
Ultimately, flexibility will be important for both startups and traditional OEMs, Matthews said, stressing that carmakers would also need to know how to scale operations. The use of flexible automation technology such as AMRs in modular production cells can help manufacturers achieve this ramp up, even as they must be ready to adapt to ongoing changes in powertrain technology and demand.
For more on flexible automation and production processes, join the Automotive Manufacturing Evolution Summit on December 7-8