Skoda is set to make the leap into electro-mobility this year with the launch of the plug-in hybrid Superb and the all-electric version of the Citigo small car. Report by Nick Gibbs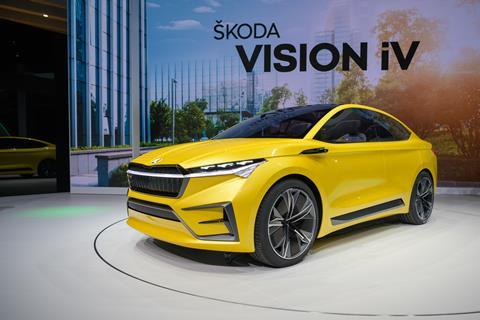 Volkswagen has stated quite clearly that its new electric MEB platform cars are to be grouped together in the same plants for maximum scale efficiency. For Europe, initially, that will be Zwickau in Germany. There will eventually be up to eight plants building MEB cars around the world by 2022, including Hanover, Dresden and Emden in Germany; Chattanooga in the US; and Anting and Foshan in China. Zwickau is the key launch site though, when it starts making the VW ID.3 from the end of this year, after which it will also build MEB-based electric cars for Seat and Audi.
However, next year, the first model underpinned by VW's MEB platform – an SUV, closely previewed by the iV Vision concept seen at the Geneva motor show in March – will roll off the line at the Skoda's flagship Mlada Boleslav plant in the Czech Republic. This will occur after Skoda managed to persuade VW to allow it to build its own MEB car at its own plant. And that's not all – the former also secured a battery pack assembly line at Mlada Boleslav for its plug-in hybrid Superb as well as for other VW Group plug-in hybrids.They went into production in February this year. "This package of decisions shows the high level of trust the brand has in Skoda," CEO Bernhard Maier said when they were first announced. It was clear this wasn't just about securing itself an extra piece of business for the brand, but ensuring Skoda's relevance and its continued importance to the Czech economy. "We are safeguarding the future of our company," Maier said.
This year, Skoda added further to those announcements, stating that a second MEB car will join its line-up from the end of 2020, likely a more conventional car than the dramatically coupe-styled crossover iV. It also said it will build a smaller EV based on a new VW platform that aims to bring electric power to a more affordable level in a smaller range of urban-aimed vehicles. That car will be built at Skoda's Kvasiny plant from 2023, but details are sketchy. The new e-Citigo is built at VW's small car plant in Bratislava, Slovakia, alongside conventional models but it's a stop-gap until the new car arrives.
Investment in electrification
To prepare for this new future, the brand is spending unprecedented amounts. Skoda product investments in 2018 amounted to the equivalent of £760m (€880m), up from £640,000m in 2017, while its research and development costs in 2018 were similar, up from just over half a million pounds in 2017. It said the "the lion's share" of the investments were "connected with the launch of new models, engines and batteries". It also created 600 new jobs in technical development over the past three years, a rise of 30%. Of those 150 were employed in 2018 to work "products of the future". It's also training its staff in the new technologies – Skoda said 10,000 staff had had attended the "electromobility" programme through 2018. The company said it will spend around €2 billion on electrification and digitalisation over the next four years in "the most extensive investment programme in its history". It has promised that by the end of 2022 it will have shown over 30 new models, of which "more than 10" of which will be partially or fully electric.
Right now Skoda is at a crossroads and how it manages the future is incredibly important to its future existence. The brand is still highly successful – that has to be pointed out. It had another record-breaking year in 2018 to build 1.28m cars worldwide, including in China. It increased revenue to €17.3bn, but profit was slightly down at a still healthy €1.4bn, giving an enviable profit margin of 8.0% (enviable in the car industry anyway). In the Czech Republic it employs more than 33,600, mostly in Mlada, but also 7,200 work in Kvasiny. Alongside the cars, it built 1.14m gearboxes in 2018 and 585,000 engines.
But as with many automotive operations in Eastern Europe it suffers from the Czech Republic's low unemployment rate. That gives workers the confidence to ask for higher wages as they're pushed to ever greater productivity and more antisocial shift patterns. Wages increased 14% in 2018, leading Skoda executives to point out that unions are in danger of killing the golden goose as the company shifts gears. "We are absolutely determined to successfully help shape this greatest change in the history of the automotive industry. However, this requires major investments in the future, which will impact our profit in years to come," Maier said at the annual results conference earlier this year. "As things stand, it is clear that we cannot afford the incredibly high collective agreements of the year before."
"We are absolutely determined to successfully help shape this greatest change in the history of the automotive industry. However, this requires major investments in the future, which will impact our profit in years to come" – Bernhard Maier, Skoda
Alternative fuel, alternative business model
Electric power poses more questions for the brand. Skoda's incredible success comes from packaging VW technology in good value, roomy cars that leverage the country's lower wages to undercut the opposition. Electric cars as they stand however are costly thanks to the extra expense of the battery cells. That means Skoda needs to change its business model. "We believe electric vehicles in the future will necessarily be more expensive than models with normal engines, so we need to find the target group who are ready to pay more for these cars," Alain Favey, Skoda's head of sales and marketing, said.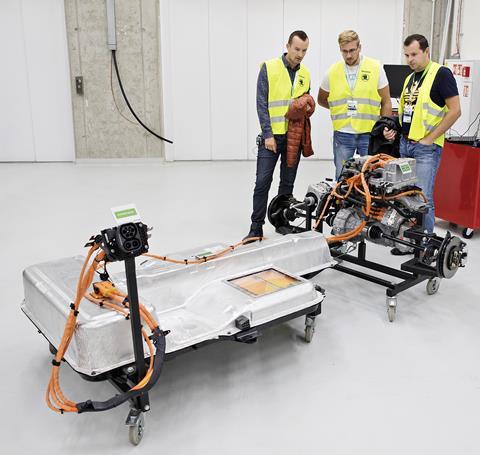 By making the iV MEB car in Mlada rather than Zwickau, Skoda is risking losing out on the cost synergies. The iV will come down the same line as Skoda's best-selling car – the Octavia – which is built on the MQB platform. That is "not optimum" according to Thomas Ulbrich, the VW brand board member responsible for e-mobility (including production). "We have mixed factories at the beginning but this is for a certain time period because the real efficient manufacturing is one platform, one line," he said in May this year. "The optimum is for example Zwickau. We completely changed in three years to MEB and the plant will be even more efficient than it was as an MQB plant." He said that the decision in 2016 to put the iV in Mlada was more because Zwickau was going to be full with six separate models (mostly likely four of which were VWs, including the ID.3 hatchback, an SUV, an estate-style car and a people carrier). Skoda hasn't revealed much about the exact production plans for iV in Mlada except that it's going down the same line as the Octavia, but Ulbrich did say that some element of the iV assembly is down a separate line, perhaps for the battery insertion.
Skoda however is unlikely to want to lose its MEB cars to a German plant. The investment to the Czech Republic in electro mobility brings the extra cash that innovative technology calls for and avoids the country falling into the middle-income trap – wages now too high for additional manufacturing investment but not enough skills to attract R&D money.
Skoda is having to reshuffle its production as it desperately tries to balance its desire to attract the high-tech cars with the need to find more production capacity. Maier said last year that production constraints in its two European plants lost it 100,000 sales in Europe and the same would be true this year as it launches more new models, firstly with the Scala compact hatch earlier this year and later on with the start of production of a brand new small SUV, the Kamiq.
A new paintshop and new plant
The company is dealing with this in two ways: eliminate bottlenecks to speed-up production in its own plants and secondly, by building that rare thing in Europe: a completely new plant. One of those bottlenecks was the paintshop in Mlada, which Skoda replaced over 2017/2018. Maier described as the "most modern in Europe" and although he laughed off rumours that that it had become the most expensive building in the Czech Republic, he did concede it was "really expensive". But it was necessary, increasing the daily capacity to 600 bodies per day when it's fully operational. "That was our bottle neck and we are happy it's now bigger. We currently are painting 60,000 Fabias in Osnabruck [Northern Germany, a VW plant], so 60,000 Fabias are driving on the train to Osnabruck and coming back painted," Maier said in March. "We are continuing that today until the paintshop is running fully by the end of the year, then we can slowly reduce it."
It also opened an automatic small parts warehouse in Mlada Boleslav that mirrors the one the company has in its Kvasiny plant that covers 2,000sq. m and automatically sorts up 71,000 small crates for faster just-in-time delivery to the assembly lines. The VW plant in Osnabruck also makes some Skoda Karoq SUVs in an overspill from the model's home production plant of Kvasiny – something that is expected to be addressed by the new plant. Skoda is the lead brand on the plant, which will be built somewhere in Eastern Europe, according to the VW Group. The location is a secret but Turkey and Serbia are thought to be the lead countries. It won't be built in the Czech Republic.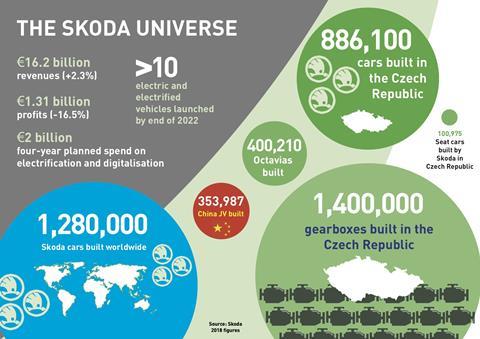 The plant will have a production capacity of 350,000 with the possibility of doubling that if needed, Maier said in March. The new plant will be completed by the end of 2022 or beginning of 2023 and will take the Karoq and equivalent Seat Ateca, currently being built in Kvasiny. "Karoq and Ateca is the most likely scenario but it's not finally decided," Maier said. That then frees up Kvasiny to take on the VW Passat, which moves to the plant in 2023 when Skoda takes on the development of the new model in tandem with a replacement for the current Skoda Superb to promote synergies between the similar models. Plug-in hybrid models of both are expected.
Wider responsibilities
Skoda has been given other responsibilities within the VW Group. It's leading the project to build a cost-effective MQB A0 (A0 being VW's code for its smallest models) platform for India, starting with a small SUV for both Skoda and VW first appearing in 2020. It also now has full responsibility for production of VW Group cars in Russia as of the beginning of the year. It's also scrambling to counter falling sales in its biggest market of China with new SUV models aimed at replacing its tradition sedans, now falling out of favour there.
But the biggest challenge no doubt will be how to create enough manufacturing efficiencies to be able to make its costly plunge into electro-mobility pay off. The cars are needed for the brand and the wider group to reduce CO2 emissions to the point they won't pay fines when new rules arrive in 2020/21, but the customer acceptance of a technology that is already much more expensive still lags, even for more tech-led brands. With wage rises a concern at its Czech Republic base, the next few years are going to be crucial for Skoda to find its place in a new electrified world.