Mahle and Trumpf join Porsche on a project to develop additive manufacturing processes for high-load drive components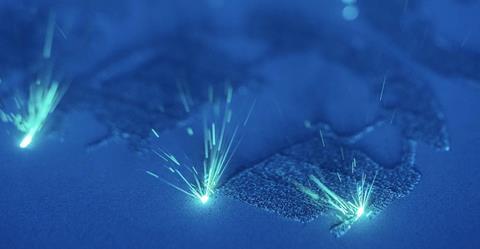 At Porsche, additive manufacturing technology is already used in prototyping, manufacturing spare parts for heritage vehicles, as well as in other areas. However, the OEM is now exploring a process to 3D print pistons for the high-performance engine of the 911 flagship model, the GT2 RS.
The process, run in cooperation with suppliers Mahle and Trumpf, allows the pistons to be produced with a structure optimised for the loads acting on the pistons. The so-called "bionic architecture" draws inspiration from structures in the natural world and the result is a lighter component: the pistons weighs 10% less than the forged series production pistons.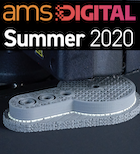 The design also has an integrated and closed cooling duct in the piston crown that could not have been produced by conventional casting. This feature helps to reduce the temperature in the areas of the piston that are under the greatest load.
Frank Ickinger, from the advance drive development department at Porsche, explained how the new manufacturing process has achieved performance benefits: "Thanks to the new, lighter pistons, we can increase the engine speed, lower the temperature load on the pistons and optimise combustion. This makes it possible to get up to 30 PS more power from the 700 PS biturbo engine, while at the same time improving efficiency."
For this project, the pistons of the 911 GT2 RS were manufactured from high-purity metal powder using the laser metal fusion process (LMF). A laser beam heats and melts the powder surface – an aluminium powder, made of a special alloy developed at Mahle. Before being fitted in an engine, the 3D-printed piston undergoes the same steps as a conventionally manufactured piston – machining, measuring and testing.
Engineers pay particular attention to the skirt (the outer shell of the piston) and the point at which it connects to the connecting rod. Additive-manufactured parts undergo the usual laboratory tests. This includes a pulsation test to check the thickness of the skirt and skirt wall to ensure no cracks develop. Also, a tear-off test makes sure the con rod will not shear. Finally, the bench test comprises a 200-hour endurance trial that includes 135-hours under full load and 25-hours under motored load.
Mahle say the positive results confirm the great potential of 3D-printed components especially in high-performance and small, limited production runs as well as prototyping.
Besides Mahle, Porsche were joined in the project by with supplier partners. Laser specialist Trumpf created the piston blanks from 1,200 layers in a 12-hour printing process. The quality and performance capability of the components were validated using metrology expertise from Zeiss.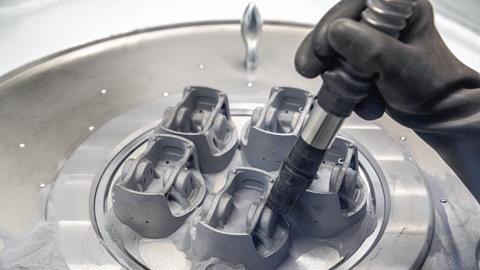 Volker Schall, corporate advanced engineering/head of product design at Mahle, said: "Additive manufacturing is very important to Mahle. It means we can reduce development time. This applies to the conventional components we have today and serves as a bridge to new forms of mobility, to emobility, as that will involve large numbers of small lots."
Dominik Abele, advanced engineering project leader at Mahle, added: "We are able to make the best use of installation spaces and make designs that can't be manufactured by conventional means. This allows us to construction items bionically and produce extremely lightweight yet high strength components which are now helping us to cut out a huge amount of weight in the case of our piston design. As a result we can run the engine at a higher RPM and thus generate more power."