The two-wheel sector is mirroring the car market with a host of new manufacturers challenging the established OEMs and launching a new generation of electric motorcycles and scooters. Nick Holt reports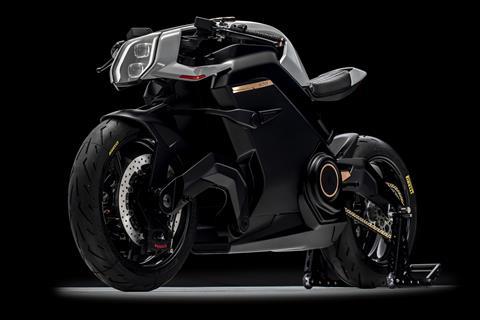 The variety of electric two-wheelers now being produced ranges from very portable, step-on scooters (intended for short urban journeys) to high performance, racing motorcycles, and everything in between. The dynamics of an electric powertrain would seem to suit the performance requirements of motorcycles and scooters, with smooth, instant torque delivery. Indeed, electric motorcycles have been successfully raced at the challenging, high-speed Isle of Mann circuit and there is now a premiere class, e-motorcycle championship (FIM Enel MotoE World Cup).
However, engineers and manufacturers in this segment share much the same technical challenges in bringing electrified models to a mass market as their counterparts in the four-wheel sector. In fact, the limited space to package the powertrain in a motorcycle is arguably even more of a challenge, taking into account the size, weight and power density of the battery required to deliver acceptable levels of range and performance. Although looking some of the concepts and prototypes currently out there, the designers are coming up with some innovative ways of incorporating the electric powertrains. Scooters would seem to offer a more efficient architecture where the sit in rather than sit on configuration offers more room for a larger battery. If you look at BMW's C evolution, for example, this is a large battery pack with a motor, steering and suspension attached to either end. This type of configuration is similar to the 'skate board' configuration that is a popular option for battery electric car platforms.
Battery packaging challenges
Another solution to the battery packaging/range issue has been to design it as a removeable item; when the charge runs low you swap it for a fully charged unit, picked up from a collection point. A recently launched example of this is Yamaha's EC-5 e-scooter. This has been created out of a partnership between the Japanese motorcycle manufacturer and the Taiwanese scooter producer Gogoro, who provide the powertrain and battery. Gorogo has developed a network of battery charging and swapping stations (currently numbering more than 1,200) that started in Taiwan but now also has locations in Paris and Berlin. The EC-5 will be available in Taiwan later this year.
For urban travel requirements shorter range e-scooters would appear to fit the bill, especially in parts of Asia where small capacity motorcycles and scooters offer affordable, effective transport to millions in high density urban areas. The challenge for this new technology in these regions is two-fold; providing a reliable, accessible charging infrastructure and making the machines themselves simple and affordable to own and operate. These basic issues also apply to the wider global market, albeit with differing requirements and expectations across regions.
The big, legacy two-wheeler manufacturers find themselves in the same position as their four-wheel counterparts. Transitioning from cost effective, ICE powered machines that still cater for a huge, albeit stagnating, market to more expensive to produce electrified models for which there is still limited demand. Indeed, the motorcycle manufacturers don't even have the option of producing hybrid models as the engineering challenges and costs, given the potential market, would make these too expensive to produce and sell.
New projects
While the big motorcycle producers have made a slow start adding electrified models, some are beginning to take serious steps. Harley-Davidson is perhaps the most surprising new member of the electric motorcycle club with its Project LiveWire electric motorcycle (see box). Another two-wheel brand with much heritage is Triumph, who have embarked on an ambitious two-year project to develop viable electric powertrain systems which can be used on its future model line-ups.
Project Triumph TE-1 will see the Hinckley, UK based manufacturer combine its experience and expertise in motorcycle chassis design and engineering, with three other partners. These are: Williams Advanced Engineering, who will provide lightweight battery design and integration capability; Integral Powertrain's e-Drive division will lead the development of bespoke electric motors; WMG, at the University of Warwick will provide electrification expertise, from R&D to commercial output. The project is supported and co-funded by the UK government's Department for Business, Energy & Industrial Strategy (BEIS) and the Office for Low Emission Vehicles (OLEV), via Innovate UK.
Triumph say that the project will be organised into four main phases, with systems integration being one of its key goals. The challenge will be to deliver electric systems for motorcycles that have reduced mass, complexity and packaging requirements. This will hopefully be achieved by developing individual components of automotive-based electric drivetrains to create optimised, combined units.
The electric runners and riders
This is a round-up of some of the players in the e-motorcycle market, with a lot of new faces leading the way.
Energica
Building electric motorcycles since 2014 at the company's facility in Modena, Italy. Produces three models: Eva EsseEsse9, EGO and Eva, all using lithium polymer battery technology and permanent magnet AC, oil cooled motors. The company was chosen to produce and develop race versions of its EGO model for the single make MotoE World Cup and last year created a new 160 sq. m area at its Modena base for the development and assembly of the Ego Corsa racebikes involved in the 2019 competition. The company noted that this new department would also manage special and custom-made projects.
Zero Motorcycles
Based in California, USA, Zero began producing electric motorcycles in 2006 and have been leading the way in this relatively new segment. The company's machines are powered by its Z-Force powertrain, which incorporates a sealed, air-cooled electric motor and the ubiquitous lithium-Ion battery.
Lighting Motorcycles
Also based in California, USA, this company is another serious player in this market and boasts some impressive performance records for its e-motorcycles, including success at the gruelling Pikes Peak challenge. Its latest model, the Lighting Strike, is aimed offering high performance levels at an affordable price.
Cake
The wonderfully named Cake is a Swedish producer of electric off-road motorcycles. The company offers both off-road and road-legal versions of its Kalk model. These are designed to be very light weight and simple to operate and maintain. The company launched its first electric motorcycle in 2017 and stated its aim to achieve a 10% market share in off-road motorcycles in 10 years. The bikes are built in Taiwan with the powertrain sourced from Europe.
ARC
The Arc Vector (see main image) has a list of features to match its futuristic design. These include: a carbon fibre monocoque, hub-centred steering, human machine interface, heads-up display and haptic alerts. The company says the batteries are the latest technology developed by Samsung and the 399-volt electric motor will produce 133bhp. Production of the hand-built £90,000 machines is scheduled to commence in 2020 at a new facility at St Athan, South Wales, UK.
KTM
The Austrian OEM already produces an electric off-road model (the Freeride E-XC) and showed the E-speed electric scooter concept back in 2013. Now it has been reported that KTM is working with its Indian partner, Bajaj, to develop a new platform for electric motorcycles and scooters.
Harley-Davidson
The iconic American company has invested more than $800m in its Project LiveWire electric motorcycle, according to Bloomberg. The first bikes should be available by August this year, with a further five electric models planned. Two of these have been shown as concepts, for a lightweight city bike and an even slimmer looking off-roader.
BMW
BMW's C evolution electric scooter has been in production at its Berlin plant since 2014, but the project began back in 2011. It features Samsung battery cells located in three modules connected in series. These are also used in the i3 car and are the common battery platform for the BMW Group.
Honda
An electric version of its CR off-road bike and the Benly delivery scooter (featuring swappable batteries) is all Honda has revealed so far of its electric two-wheeler plans.
Yamaha
At the complete opposite end of the scale from the above-mentioned EC-5 e-scooter, Yamaha revealed its radical Motoroid concept bike back in 2017. The company described this project as an "autonomous motorcycle" that uses artificial intelligence and is able to recognise the owner's face and actions, stand up from its kickstand and come to its rider.
Kawasaki
This year rumours have circulated that Kawasaki are in the process of designing and building an electric motor cycle, but while there's no official word on this, it probably won't be the very futuristic Kawasaki J concept revealed back in 2013.