The institute will liaise with universities and corporate research labs to create smarter and more agile robots, the institute's executive director says.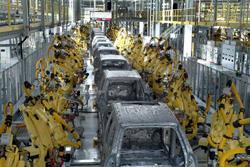 Hyundai Motor Group and Boston Dynamics will jointly invest $400 million to create a robotics and AI research institute, the Korean automaker said in a statement.
The Boston Dynamics AI Institute will be led by the founder of robotics company Boston Dynamics, Marc Raibert, to tackle some of the biggest challenges in the creation of more advanced robots.
The institute, to be based in Cambridge, Massachussetts, will combine the best features of university and corporate research labs with a focus on cognitive AI, athletic AI, organic hardware design and ethics and policy, Hyundai says.
"Our mission is to create future generations of advanced robots and intelligent machines that are smarter, more agile, perceptive and safer than anything that exists today," said Raibert.
"The unique structure of the Institute — top talent focused on fundamental solutions with sustained funding and excellent technical support — will help us create robots that are easier to use, more productive, able to perform a wider variety of tasks, and that are safer working with people."
The institute will hire researchers in AI and robotics and software and hardware engineers and technicians of all levels of qualification, the statement said.
Hyundai Motor Group also announced plans to set up a Global Software Center for the development of technologies for 'software-defined vehicles'.