Across the group, the OEM anticipates lower consumption and more compact paintshop design as a result of deploying the new technology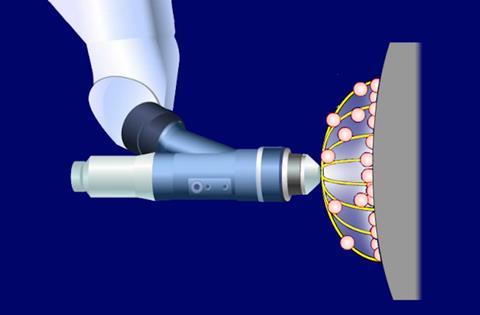 Toyota is developing a novel airless paint atomiser that uses static electricity to achieve a higher coating efficiency in the vehicle body painting process.
The OEM said the innovation is "the first of its kind" in the industry and is achieving more than 95% coating efficiency – the amount of paint dispensed against the amount adhering to the vehicle body – a huge step up from the conventional efficiency of around 60 to 70%, Toyota said.
Additionally, by deploying the airless atomiser in its paintshops, Toyota expects to reduce its CO2 emissions by about 7% as a group.
A further benefit is seen in paint booth collection devices which, with significantly less overspray encountered, can be made more compact. This in turn could allow more flexibility in the design and scale of paint production lines in the future.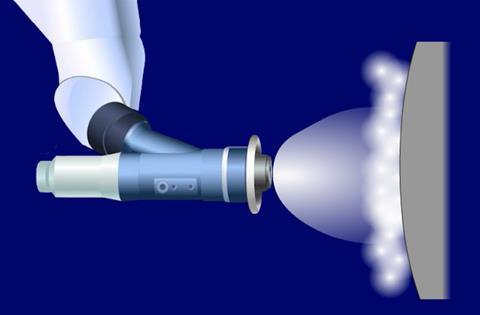 As part of its Plant Zero CO2 Emissions Challenge, Toyota developed the airless paint atomiser and deployed it at both Takaoka and Tsutsumi Plants in Japan. Deployment at other sites across the group is planned and the OEM is also considering whether to license the technology to the broader market.
Features of the technology
In the main, conventional air paint atomisers spray using aerodynamic force, painting the vehicle body with atomised particles. In the process, paint particles are scattered by as air ricochets off the vehicle body. The result is a coating efficiency of approximately 60 to 70%.
In contrast, Toyota's new airless paint atomiser uses electricity to convey the paint – electrostatic atomisation – so statically charged particles gravitate toward the vehicle body – electrostatic painting. Electrostatic atomisation and electrostatic painting technologies greatly reduce the number of scattering particles, hence the higher coating efficiency is achieved.
How it works
The tip of the airless paint atomiser features a rotating cylindrical head, optimising the amount of paint sprayed. The tip of the paint sprayer is cylindrical, with approximately 600 grooves inserted into the tip. It rotates to create a centrifugal force, drawing the paint into the grooves then atomising it through static electricity.

The stability of the electric current relies on a consistent gap between the cylindrical head and the body. As the curvature and form of the panels can cause the gap to fluctuate, the airless paint atomiser constantly monitors the variations in current and automatically controls the voltage. It maintains a distance of approximately 10cm between the cylindrical head and the vehicle body so electrostatic atomisation and electrostatic painting under a fixed current is made possible. In turn, this prevents variation in the size of the paint particles and the outcome is an increase in quality.