Thyssenkrupp has launched Automotive Body Solutions as a separate business unit to focus on both in-house production and developing lightweight materials, as well as production equipment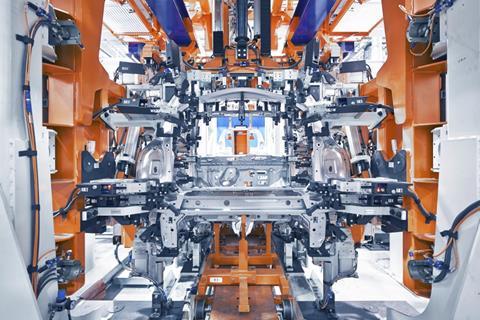 Falk Nüßle, CEO of Thyssenkrupp Automotive Body Solutions, said: "As an independent bodymaker we can take a more entrepreneurial approach and respond more quickly to market requirements. We are combining our know-how in conventional assembly line construction with our expertise in the production of body components to offer our customers tailored and proven solutions for all aspects of body production from a single source."
The move follows a restructuring of its automotive plant construction business in Germany that included splitting thyssenkrupp System Engineering into two independent companies – one for body and one for powertrain activities.
The Automotive Body Solutions division focuses on prototyping, tooling and line construction, and in-house production of body parts. Following the restructuring, it has five locations in Germany and six in other countries.
Assembly lines for tooling, prototyping and body production are developed and produced in Lockweiler (Saarland) and Burghaun (Hesse). The sites in Heilbronn, Mühlacker and Weinsberg (Baden-Württemberg) develop and produce lightweight body solutions for vehicles. Previously, Heilbronn also developed and produces body assembly lines. Together, these five facilities employ around 2,000 people. As part of the restructuring, 157 jobs were lost at these locations.
"For us the last fiscal year was all about restructuring and reorganising the business. We have become more competitive and achieved greater flexibility in project business. Now we are looking to the future with confidence. Our order books are full and we are also benefitting from the trend toward e-mobility, winning several promising projects for e-vehicles in recent months," Nüßle added.
The powertrain and battery assembly activities which were part of thyssenkrupp System Engineering have become the Automation Engineering division that is part of the Thyssenkrupp Multi Tracks company. It has locations in Bremen and Langenhagen (Lower Saxony), where it develops and produces assembly and testing lines for combustion engines, electric motors and fuel cells.
It also operates two plants for battery cell production equipment in Hohenstein-Ernstthal and Chemnitz (Saxony), but is closing the former and rolling its activities into the Chemnitz plant, resulting in 154 job losses.
Felix Bader, chief human resources officer at thyssenkrupp System Engineering, commented in November: "From the outset our aim was not to abandon any technology field while nonetheless adapting our site strategy to the market conditions. Overall I am very pleased that we have been able to keep the job cuts slightly lower than originally planned. We have achieved this largely by utilizing natural employee turnover and in part through internal transfers. This has enabled us to limit job cuts, keep important know-how in the company and still realize the economic goals of the restructuring as planned."