Manufacturing site layouts are being captured digitally for planners to explore the advantages of virtual models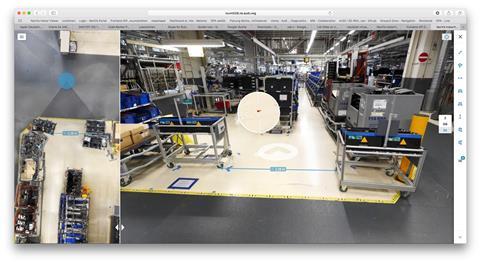 A small project team at the Neckarsulm factory has been working with a VR specialist start-up to collect and process digital information required to develop accurate, on-screen representations of the site.
The 3D scanning exercise, carried out with Munich-based start-up NavVis, generates a point cloud that records each machine, storage area and system at the plant. The virtual model created can then be used as a basis for planning production.
The disruption and plant closures brought about by the coronavirus crisis have highlighted the value of this type of site independent virtual model to OEMs. Project leader Andre Bongartz explained: "During the coronavirus pandemic, our digital planning system provides enormous advantages. Planners can measure the production halls from home and thus plan systems precisely without even having a pocket rule in their hands."
Audi said that, in the future, all production halls at the Neckarsulm site will be scanned digitally and other use cases, such as indoor navigation and an augmented reality (AR) planning application will be among the 3D scan activities.