Several carmakers have recently outlined plans to alter their production activities in the US. Some announcements have been positive, with large investments being made to build new facilities as well as upgrade existing ones. Others have detailed plant closures.
Here we provide an overview of the latest news regarding those investments and closures.
FCA
FCA recently stated that it was investing a total of $4.5bn on a new assembly plant in Detroit and the upgrade of five existing Michigan plants. This marks the next stage in the company's US industrialisation plan, which was previously outlined in 2016, and hoped to build on the success of the Jeep and Ram brands.
"Three years ago, FCA set a course to grow our profitability based on the strength of the Jeep and Ram brands by realigning our US manufacturing operations," said Mike Manley, CEO of FCA. "Today's announcement represents the next step in that strategy. It allows Jeep to enter two white space segments that offer significant margin opportunities and will enable new electrified Jeep products, including at least four plug-in hybrid vehicles and the flexibility to produce fully battery electric vehicles."
The new assembly plant will be constructed by converting two existing plants in the Mack Avenue Engine Complex
The new assembly plant will be constructed by converting two Mack Avenue Engine Complex plants. Costing around $1.6bn, this will be used to make the next generation Jeep Grand Cherokee, an all-new Jeep SUV, and plug-in hybrid electric vehicles (PHEVs).
The 3.6-, 3.2- and 3-litre Pentastar engines that are currently made at the Mack Avenue Engine Complex plants will stop in Q3 2019, after which they will be relocated to the Dundee Engine Plant. FCA will spend $119m readying the facility in Dundee for the introduction of the new engines.
The OEM also said it will spend $1.5bn to retool its Warren Truck facility ahead of producing the new Jeep Wagoneer and Grand Wagoneer, which is expected to begin in 2021. Similarly, it plans to invest $900m to retool and modernise its Jefferson North Assembly Plant to build the Dodge Durango and next generation Jeep Grand Cherokee. Finally, FCA is spending $245m and $160m on its Warren Stamping and Sterling Stamping facilities to support additional production.
Toyota
Toyota has announced that it will spend a further $749m on its US operations over the next three years. This figure is in addition to the US$10bn that the company promised to spend on US operations between 2017 and 2021.
"These latest investments represent even more examples of our long-term commitment to build where we sell," commented Jim Lentz, CEO for Toyota Motor North America. "By boosting our US manufacturing footprint, we can better serve our customers and dealers and position our manufacturing plants for future success with more domestic capacity."
The money will be used to ready the company's Kentucky vehicle plant (Toyota's largest globally) for production of the Lexus ES 300h hybrid and RAV4 Hybrid. It will also allow the OEM to increase annual engine capacity at its Huntsville, Alabama plant from 670,000 to 900,000 units, and double capacity of its hybrid transaxles from 120,000 to 240,000 units at its West Virginia facility.
Furthermore, Toyota plans to invest in new equipment to allow it to produce an additional 864,000 cylinder heads on top of the 3m made per year at its Bodine Aluminium facility in Troy, Missouri. Its Bodine Aluminium facility in Jackson, Tennessee will also be expanded in order to produce 288,000 engine blocks in addition to the 1.7m made there each year, as well as to double capacity of its transaxle cases and housings to 240,000 annually.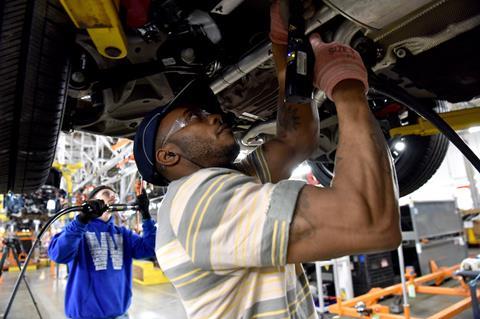 Ford
Ford has vowed to spend $1bn on its Chicago Assembly and Stamping facilities in anticipation of the launch of its new Explorer, Police Interceptor Utility and Lincoln Aviator. The three SUVs are expected to go on sale later this year.
The money will be used to build a new body shop, a new paint shop, and to make some modifications in the final vehicle assembly area. A new stamping line will also be installed ahead of the launch of the 2020 Ford Explorer, Police Interceptor Utility and Lincoln Aviator.
As well as new lines and production areas, Ford will has said it plans to install new 3D printing tools in order to help build the vehicles in Chicago. The assembly plant will also use a collaborative robot to inspect electrical connections during the manufacturing process, which follows on from the cobot testing carried out at its factory in Cologne over the past two years. Finally, around US$40m of the US$1bn total will be used to make the two facilities better places to work, with new LED lighting and improvements to the cafeteria, break areas and parking lot security upgrades.
Ford has also recently been investing in other US facilities. A 'massive' retooling project was carried out at its Michigan assembly plant, costing US$850m. This was done in order to allow the company to produce both the mid-size Ranger pick-up as well as the larger Bronco at the plant. The latter model won't roll of the lines until 2020, and is part of Ford's plans to replace 75% of its North American portfolio.
Ford is investing in its Chicago Assembly and Stamping facilities ahead of the launch of three new SUVS
General Motors
At the end of 2018, GM revealed plans to close seven plants, five of which were in North America. These included Oshawa Assembly in Ontario, Canada, Detroit-Hamtramck Assembly in Michigan, Lordstown Assembly in Ohio, Baltimore Operations in Maryland and Warren Transmission in Michigan. CEO Mary Barra said that the closures would help the company to be "highly agile, resilient and profitable, while giving us the flexibility to invest in the future."
Like FCA, GM is looking to bolster production of its larger models, as demand for SUVs and pick-ups in North America continues to dominate the market.
Two months after making the announcement to close the plants, the OEM said it was investing $22m in its Spring Hill plant in Tennessee to ready it for production of its 6.2-litre V8 engines. It also plans to invest $20m in its Romulus plant in Michigan to increase capacity of its 10-speed transmissions, and $36m in its Lansing plant, also in Michigan, ahead of the production of a new crossover model.
GM also recently announced that it was increasing production of the Bolt EV at its Orion Assembly plant in Michigan and added a third shift to its Spring Hill plant after witnessing growing demand for the GMC Acadia and Cadillac XT5.
A political underpinning
One potential factor impacting each of these decisions is politics. Over the past two years, carmakers have been urged by Trump to invest in US operations, and the President has praised OEMs that have spent money on plants.
However, according to an article in the New York Times, Trump's $1.5tr tax cut, which has been mostly financed by government borrowing, has significantly increased the number of imported goods bought by consumers. Furthermore, a global economic slowdown has reduced the number of exported goods shipped by the US, therefore widening its trade deficit to $891.3bn.
On-going trade wars between the US and China have also had an impact on the US automotive industry. Tax that Trump has imposed on steel imports from China have reportedly cost US carmakers an estimated $1bn.
It is unclear exactly how the political situation in the US is affecting car manufacturing facilities. But OEMs are clearly looking to make their operations more efficient, investing in plants that are making high-demand vehicles and leaving plants that are only suited to making less popular vehicles behind.