Given the scale and scope of its current restructuring programme, a very different Ford will eventually emerge. Ian Henry looks into the changes being made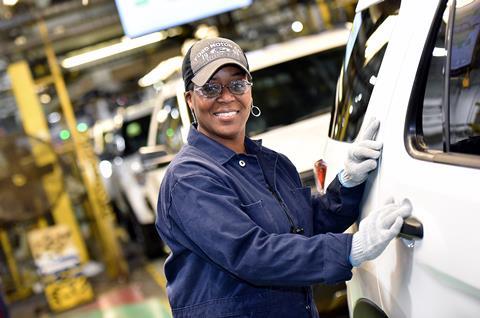 With one part or another of its shrinking global empire subject to significant change in terms of organisation or product focus, Ford exists in a state of permanent restructuring. In the first half of 2019, the focus has been on Europe, especially Germany and the UK where jobs cuts are planned, while expansion of SUV production and investment in its Chicago and Michigan facilities continue in the US.
In Germany, where Ford employs around 24,000 people, at least 5,000 jobs are to be cut, many at Saarlouis where production of the C-MAX ends soon. In the UK, where the company employs 12,000 staff, jobs are being cut at Bridgend, where engine production is now limited to around 125,000 per annum, with engines for JLR due to stop production in the near future. In October 2018, the Bridgend plant started production of the new Dragon engine, following an investment of £100m ($131m) aided by a Welsh Government grant to fund new CNC machining lines for the cylinder heads and blocks. It would not be surprising to see job cuts at Dagenham, where diesel engines are made, but details of UK job cuts will not be known until later in 2019. More broadly, Ford CEO Jim Hackett is embarking on an $11bn cost-cutting exercise across Europe, Latin America and Asia. And in April 2019, Ford announced an eight-point turnaround plan for its European operations, centring on expanding its SUV, LCV and EV range.
Europe
Losses are especially acute in Europe, where Ford lost almost $400m in 2018, and has lost 2.5% market share since 2009. Cutting older, declining models, such as C-Max and Grand C-Max, is not surprising; instead, Ford will focus on the Valencia-made Kuga, possibly adding a seven-seat version of this, but it could be imported from the US if the EU and US reach accommodation on tariffs. Other European cutbacks will include the closure of its Bordeaux transmission plant, much to the ire of the French unions and government, and consolidating its UK headquarters from two locations to just one. All Ford central operations in the UK will be based at the company's technical centre at Dunton.
The carmaker is also undertaking a review of operations at its Sollers joint venture in Russia. In March, it was announced that passenger vehicle production will be discontinued at the end of June 2019, with the closure of two vehicle assembly plants – Naberezhnye Chelny and St. Petersburg – and an engine plant in Elabuga.
One positive story from Europe is the reported plan to invest c200m ($226m) to raise capacity at Craiova in Romania to 300,000 upa. this will involve expanding production of the EcoSport SUV and adding a second crossover model, based on the Fiesta and to be called Puma.
As is often the case in corporate moves such as this, Ford has given its restructuring strategy in Europe a strapline of its own, to focus the minds of executives and employees on the task at hand; in this case, the rather unpoetic 'Sprint to 6 Reset and Redesign' refers to Ford's desired aim of 6% EBIT margin, a target which has not been given a specific timeline. Its former head of quality, Gunnar Hermann, will oversee the German restructuring, while Graham Hoare, formerly chief powertrain engineer in Europe, will oversee reorganisation in the UK.
The new European strategy will see Ford concentrate on SUVs and LCVs. The latter will involve a close cooperation with Volkswagen and will see a wide range of hybrid and full electric LCVs launched. The former should mean a positive future for the Craiova factory which makes the EcoSport and will soon add the new Fiesta-based SUV, Puma; moreover these will most likely be made at higher rates than for earlier models, as noted above; it should also mean some good news for the Valencia plant which makes the Kuga. Europe will also see a renewed push for the South African-made Ranger pick-up and selected other US imports, such as the Edge and Explorer SUVs, and the low volume Mustang sports car. Ford is realigning its sales organisation, between three activities, LCVs, cars/SUVs and imports.Change and restructuring in Europe are driven also by concerns over Brexit, which could hit Ford especially hard despite the company no longer making vehicles in the UK. Ford ships engines from both Bridgend and Dagenham across Europe; a 'hard Brexit' would likely result in tariffs and customs processing costs when shipping engines from the UK to Spain, Germany and Turkey, and also tariffs on finished vehicles imported into the UK. Ford may be able reduce these costs through off-set schemes but setting these up and getting tax authority agreement in different jurisdictions is neither quick nor simple; nor is it cost-free.
In 2018, European sales fell, mainly due to Turkey seeing a 50% collapse, although in light commercial vehicles Ford actually achieved its best figures for over two decades in the last quarter of 2018. In general, European LCV sales have been strong in recent times and to help maintain its recent strong performance here, the carmaker has announced a wide-ranging alliance with Volkswagen, which has both global and European-only dimensions. The Ford-VW alliance will ultimately cover electric and autonomous vehicles, although much detail remains to be worked out here; the first tangible signs of cooperation between the two companies will come in LCVs in Europe.
To address losses in Europe, Ford is cutting the C-Max and Grand C-Max to focus on the Valencia-made Kuga, possibly adding a seven-seat version
The alliance with Volkswagen
In January 2019, after months of rumours and speculation, Ford and Volkswagen announced an alliance offering the prospect of co-operation in vehicles, electric technology and support services. But it begins with the co-development and production of vans and pickups.
We can expect to see the commercial version of the next Volkswagen Transporter being made by Ford in Turkey, using the Ford Transit as a base, while production of passenger versions of the Transporter will continue at VW in Hannover. Switching the commercial Transporter to a Ford platform frees up space and resources in Hannover, allowing this plant (alongside Zwickau and Emden) to switch to EV technology in the coming years.
In parallel, the VW plant in Poznan, Poland, which makes the compact Caddy van in commercial and passenger versions, will add a Ford variant, effectively the replacement for the Transit Connect van currently made in Valencia. What this means for the Valencia plant, and indeed whether Ford will continue to make the smaller Transit Courier (based on the Fiesta) in Turkey or whether this will also switch to the VW platform, remains to be seen.
Although both companies are optimistic that this cooperation will be beneficial to both, they have issued notes caution, saying they do not expect any impact on the pre-tax operating results before 2023. The companies have also indicated that they would work on projects beyond those already identified, although what these will encompass remains to be seen.
South America
Europe is not the only part of Ford's operations experiencing job cuts; in South America, its administrative headcount was cut by 20% in 2018. In addition, the OEM is exiting the heavy truck market in South America, a move that will mean a one-off charge in its 2019 accounts of around $460m. The Sao Bernardo do Campo site, which makes the Cargo, F-4000 and F-350 vehicles, as well as the Fiesta, will stop production during 2019. South American results were hit by a fall of over 40% in Argentinean volumes, and a fall of $0.5bn in revenue to $5.3bn; this resulted in a loss of $678m for the region, 70% higher than the $398m reported for Europe. Further afield, in Asia Ford's performance was hit by problems in China, where the carmaker sold 511,000 fewer vehicles in 2018 than in 2017, down to just under 1.06m; revenue fell by $1.7bn to $12.4bn, and while losses fell, from $1.76bn in 2017, they were still $1.1bn in 2018.
North America
For all the negative news in Europe and across the globe, Ford continues to prosper and expand in North America where it has reported positive results. In Q4/2018, it achieved an EBIT margin of 7.6% and a full-year margin of 7.9%, or $7.6bn. Sales of its iconic F-Series truck totalled $1.075m in 2018, equivalent to around $50m in revenues. Such is the success of the F-Series that production has to be split across four plants, namely Kentucky Truck, Kansas City, Ohio Assembly and Dearborn Truck.
The Kentucky Truck plant received a further boost in 2019 with news that production of the Ford Expedition large SUV and its sister vehicle the Lincoln Navigator, will increase mid-year. Some 550 new jobs are being added at Kentucky Truck, and a similar number of employees are moving from the Louisville plant to Kentucky Truck; this will enable output at Kentucky to increase output by 20% after the July summer shutdown.
The Kentucky Truck plant will increase its production of two large SUVs, the Ford Expedition and its sister vehicle the Lincoln Navigator
News of the expansion in Kentucky came after Ford had announced a $1bn investment in Chicago, where it makes the Explorer SUV. Here 500 jobs will be created to increase Explorer volumes, as well as making Police Interceptor Utility vehicles (based on the F-150 truck) and the new Lincoln Aviator for sale in the US and China (tariff battles permitting). Total employment at the Chicago Stamping and Assembly facilities will reach 5,800.
In Chicago, Ford is building an all-new bodyshop and paintshop, as well as making improvements to the final assembly area. New stamping lines have been installed along with cameras to inspect electrical connections during assembly, and 3D printing is also expected to be used in the factory, although what components will be made by this process has not been revealed. The expansion of SUV production in Chicago was preceded by the end of Taurus production on 1 March after 34 years.
In late March, Ford announced a $900m investment to expand the Flat Rock, Michigan factory and, elsewhere, to make new electric vehicles, autonomous vehicles (from 2021) and also the next-generation North American version of the Transit Connect, also from 2021. The EVs made at Flat Rock will follow on from the production of a new all-electric SUV to be made in 2020 Ford's Mexican plant in Cuautitlan. The autonomous vehicles will be made in a new facility in Michigan while the new Transit Connect will be made at Ford's Hermosillo plant in Mexico.
To boost North American performance, more than 20 new Ford and Lincoln models or variants will be launched during 2019 and 2020. The Ford brand will move from traditional sedans to trucks and SUVs; the Bronco name returns to North America in the mid-size truck market and a smaller SUV will also be added there.
A review of the Sollers joint venture in Russia means production at two passenger vehicle factories and an engine plant will end in June 2019
Asia
In 2018, the company also decided to make its Chinese operations into a standalone business unit, reporting directly Ford's headquarters in Detroit rather than through a regional Asian base. As part of the specific 'Chain' focus, with its own management team, Ford plans 50 new models and variants for China by 2025; moreover, it will increase Chinese production of both Ford and Lincoln models. For example, the Territory name will be revived on a new model (it having originally been used on an Australian model before Ford closed its Melbourne factory).
A new Focus is to be launched in China, with the Chinese market received more than new Ford and Lincoln models and variants in 2019 alone, and more than 30 variants by 2021. Ford will also increase investment in China-specific R&D and engineering activities, having already created a new joint venture with Zoyte for small battery electric vehicles, and will enter into new strategic alliances with Baidu and Alibaba to explore artificial intelligence, connectivity and digital marketing.
Other positive news outside the US comes from Ford's South African operations. In late 2018, production of the Ranger pickup began, after 3 billion rand was invested at the Silverton assembly plant. Production will include the Raptor performance model, a top of the range version of the Ranger exported to 148 markets across the world, including Europe.
In fact, exports from South Africa reached 68,364 (up 16,2%) in 2018, out of total production of 98,505 (up 8.4%). Europe is the main export market, accounting for 51,500 units, a volume that Ford claims gave it nearly 28% market share in pickups in Europe last year. In addition, the South African plant makes engines for the Ranger and the locally-made Everest SUV, which exports throughout sub-Saharan Africa. No less than 34 engine variants are made in South Africa for use in locally-assembled vehicles and Ford operations in North America, India and China; in addition, machined components, especially blocks, heads and crankshafts are shipped from South Africa to Ford assembly plants in Argentina and Thailand.
It is clear that a very different Ford will have emerged by the end of the current restructuring programme; many long-established Ford models will likely disappear and more SUVs and crossovers will be introduced. Whether Ford will be able to turn around its financial performance in Europe remains to be seen; one or more factories may yet close, although we would expect the next full closures to be of engine facilities, alongside production cutbacks in Germany and potentially Spain. Longer term, the idea of Ford exiting entirely from Europe, as GM has done, should not be dismissed.