Michael Nash touches on some of the most recent announcements regarding the production of autonomous vehicles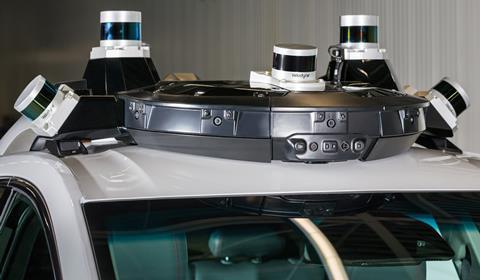 The trends of vehicle electrification and autonomous driving have been rising together in parallel. AMS has extensively explored manufacturing activities that are centred upon the former (see e-Mobility supplement), but how is the industry adapting in order to produce driverless vehicles? Below are some of the latest announcements regarding production of autonomous vehicles.
Initial rollout
Volvo Cars and Uber have recently revealed their production-ready autonomous vehicle. It was jointly-developed, and is based on the Volvo XC90.
"We believe autonomous-drive technology will allow us to further improve safety, the foundation of our company," commented Håkan Samuelsson, president and CEO of Volvo Cars. "By the middle of the next decade, we expect one-third of all cars we sell to be fully autonomous. Our agreement with Uber underlines our ambition to be the supplier of choice to the world's leading ride-hailing companies."
As well as Uber's self-driving technology, the car includes several back-up systems for critical functions, such as steering and braking. It also has battery back-up power. If any of the autonomous features fail, the back-up systems have been designed to immediately act and bring the car to a safe stop.
Various other OEMs have been making small numbers of vehicles equipped with autonomous driving systems. Back in 2016, GM bought Cruise for US$1 billion, and soon after it started to make a handful of autonomous test vehicles that have been deployed in San Francisco.
Not much has been published regarding the tests, or how GM intends to move forward with the production of autonomous vehicles. However, a recent Financial Times article stated that the OEM has missed its target to start producing large numbers of driverless cars. This could be due to changes that need to be made to existing plants in order to equip them with the tools for making the cars. GM also stated back in 2017 that it was spending $100m to upgrade its Orion Township and Brownstown plants ahead of market introduction of the Cruise Autonomous Vehicle (AV). The roof modules that have LiDAR, cameras and sensors attached to them are being assembled at Brownstown on a dedicated production line, while the rest of the vehicle will be made at Orion.
Ford has also said it is spending $900m on its facilities in Michigan to ready them for electric and autonomous vehicle production. It is also building a new autonomous vehicle manufacturing centre, which will be used to upfit purpose-built hybrid vehicles with self-driving technology and unique interiors. This is scheduled to begin in 2021, with the first units being set aside for commercial purposes rather than general public purchase and use.
Preparing for mass production
While several projects to date have successfully resulted in AV production, they have all been in small volumes for test projects. Progress in various areas, from technology to cost and legislation, needs to be made before AVs can enter mass production.
A start-up based in China and the US called Nullmax, which is headed by two former Tesla employees called Xu Lei and Justin Song, is hoping to become one of the first companies to mass produce its AV technology. It recently launched its 'MAX' autonomous driving system at an event in Shanghai, which includes functions such as highway pilot, traffic jam pilot and autonomous valet parking.
The system uses sensor fusion, combining information from cameras, radar and ultrasonic sensors. It also incorporates software and algorithms that were independently developed by Nullmax.
"We want to bring autonomous driving to our daily life in a safe, efficient and affordable way, and facilitate mobility revolution of safety and transportation through its popularisation," commented Lei. "With the launching of MAX, we take the first step to realise our dream. We believe MAX is a competitive solution."
The next stage for the company will be to provide its solution to OEMs and Tier 1 suppliers in China for "large-scale application." Start of production has been set for 2021-2022 while Nullmax carries out product optimisation and upgrades.
Making the components
Tier 1 suppliers are getting in on the action too. Continental has announced that it has started series production of a number of components that will be used for robo-taxis, including an anti-lock braking system (ABS), radar and redundant braking systems. These will first be used in the autonomous shuttle called EZ10, which is made by the French company EasyMile.
"The technological building blocks that enable robo-taxis to operate are available in principle and have been tried and tested in practice. However, we now have to intelligently, safely, and efficiently put them together to form an overall picture," explained Andree Hohm, director of driverless mobility at Continental. "Customers developing driverless mobility systems should be able to draw from a wide array of high-performance products and solutions with Continental. We are setting the course for that. At the same time, our global activities are addressing local particularities."
The supplier's MK C1 one-box brake system will be included in the EZ10. It has been in production since 2016, and combines ABS with electronic steering control (ESC) and a brake booster. When combined with a hydraulic brake extension, the system can automatically bring the vehicle to a stop in the event of a primary brake failure.
The EZ10 is based on a development platform called the CUbE. However, Continental is keen to stress that it is readying its technologies to be used in various different robo-taxis.