Chip shortages, energy prices, supply chain disruption against the backdrop of electrification and low-carbon manufacturing – tell us how you are impacted!
Automotive Manufacturing Solutions, in partnership with ABB, has launched a new industry survey to pinpoint the biggest hurdles facing automotive OEMs and tier suppliers and to identify opportunities, in one of the most challenging periods in the history of car making.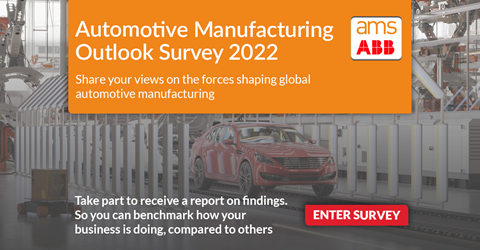 The survey, which can be filled in here and whose findings will be published in November, will shed light on how impacts from the myriad challenges spanning supply chain disruption, inflation and energy supply vary depending on where participants sit within this global industry.
The questionnaire is quick and easy to complete and also covers the broader transition towards sustainable mobility through electrification and decarbonisation of manufacturing, efforts which remain no less urgent despite the unforeseen crises the industry is now grappling with daily.
Please take a few minutes to contribute using the link below and join more than 250 companies who have already responded. Watch this space for a full analysis of the findings and insight into how market participants in different corners of the automotive space are navigating unprecedented, simultaneous challenges.