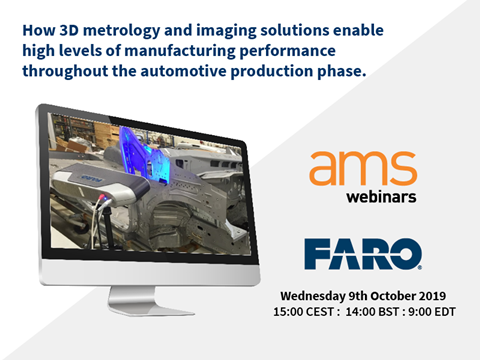 Join the AMS / FARO Webinar to learn how OEMs and their Partners can leverage FARO 3D data capture technology to boost their productivity and efficiency across the whole automotive manufacturing lifecycle. In this webinar we will focus on , automated in-line inspection, virtual assembly and assembly guidance.
The webinar will cover:
The challenges in the production phase which include applications such as in-process inspection
Automated in-line inspection
Virtual assembly and assembly guidance.
Wednesday, 9 October 2019 | 15:00 CEST :14.00 BST : 09:00 EDT

The presenter: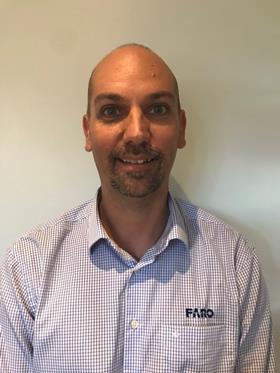 Martin Boulton
Account Manager
FARO UK
Martin Boulton worked in Honda in the UK manufacturing facilities for 13 years prior to joining FARO in 2012. Martin started in the Weld Body Shop, where he had already used FARO portable metrology solutions. After 5 years, he moved to a Parts Quality Role where he continued to use metrology systems in both the Honda factories as well as at the suppliers' facilities across Europe. He also was in charge for training new employees. With his arrival at FARO, Martin started working as a Senior Sales Engineer, supporting the UK sales team for Metrology and Production systems, such as Laser Trackers, FaroArms, Imagers, Laser Projectors, Visual Inspect Solutions and Laser Scanners. In 2018 Martin started a new position as Account Manager, responsible for the different Metrology and Production systems in the UK market.
About FARO

FARO develops and markets portable 3D measurement and imaging solutions for manual & automated inspection of parts and final assemblies.
Whether for 3D inspection, CAD-to-part comparison, alignments or reverse engineering, FARO portable measuring and scanning solutions are the industry standard in 3D metrology.
Technology from FARO permits high-precision 3D measurement, imaging and comparison of parts and compound structures within production and quality assurance processes and provide valuable data and insight for streamlining and improving manufacturing processes.
For more information visit www.faro.com